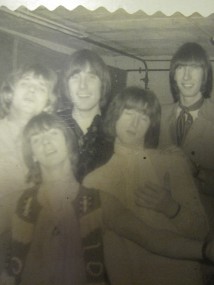 Birmingham
Ken Aston vocal
Pete Ball organ
Roy Black bass guitar
Chris Moore guitar
Cozy Powell drums (left in 1968)
Mac Poole drums (joined in 1968)
This Birmingham-based group was previously known as The Sorcerers and are significant as being the first band to feature the famous and influential rock drummer Cozy Powell.
The band was formed in the mid 1960s and included singer Ken Aston, organist Pete Ball, bass guitarist Roy Black, guitarist Chris Moore, and drummer Colin Powell. Pete Ball grew up in a musical family and his older brother Dennis (Denny) was already playing in well known Birmingham singer Danny King's group The Mayfair Set by the time The Sorcerers were formed. Pete also had another brother Dave who played guitar in a group called The Madding Crowd.
Colin "Cozy" Powell was born in the Cotswolds town of Cirencester on December 29, 1947 and started playing drums at an early age.
After playing in various local groups, he left school at age 16 to "turn professional" and joined a West Midlands group called The Sorcerers in 1965.
Like many British groups at that time, The Sorcerers were soon touring over in Germany where they remained for about three years. The band later accepted an engagement to play at an American Air Force base over in Turkey.
While in Germany, The Sorcerers recorded three singles starting in 1966 that were released on various obscure German labels.
One track, Baby Lass Uns Tanzen Gehn, was sung in German, while another, Love Is A Beautiful Thing, was a cover of a Young Rascals song.
These records are today extremely rare and command high prices.
Upon returning to Britain, The Sorcerers name was changed to Young Blood and they undertook extensive bookings throughout the Birmingham area
which included regular rehearsals at Weoley Castle Square community centre. In early 1968, the group were signed to the Pye Records label
and the first Young Blood single, the energetic Green Light was released in March of that year.
The song was originally recorded by British chart act The Equals and was composed by their guitarist Eddy Grant who years later
would enjoy much success as a solo artist. The B-side of the Young Blood single was an original composition titled
Don't Leave Me In The Dark and credited to Dennis Ball (Pete's brother) from the Mayfair Set.
Although Green Light did not become a hit, Pye Records released three more Young Blood singles between 1968 and 1969 which included versions of
The Archies Bang-Shang-A-Lang and The Beatles The Continuing Story Of Bungalow Bill from their famous "White Album" double-set.
Although the records were chart-friendly and well produced, Cozy Powell became dissatisfied with the Young Blood's perceived "bubblegum" image
and became restless to find a more suitable outlet for his powerful drumming style. By late 1968, he had left the group to join a new band that was being put together by Pete Ball's brother Dennis from The Mayfair set.
The new group was to feature ex-Move bass guitarist Chris "Ace" Kefford as lead vocalist (see the Ace Kefford Stand).
Following Cozy Powell's departure, drummer Mac Poole who was from a Birmingham group called The Hush
was brought in as a replacement but Young Blood continued for only a short time
after this and had broken up by 1969 Pete Ball re-joined Cozy Powell when he became a member
of the Ace Kefford Stand along with his brother Denny Ball.
Compiled By Keith Law