"Bringing you the best in International folk, roots and acoustic music artists to Birmingham and the West Midlands."
There will be so much more to add to this page in the coming months….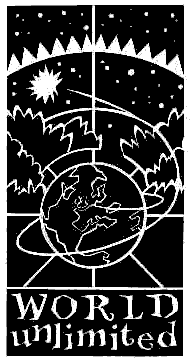 Here is where World Unlimited were at on their 20th Anniversary back in 2009:
World Unlimited is a voluntary, not for profit, organisation formed in 1989 to bring the best in International roots artists to Birmingham and the West Midlands. The late Richard Wallace of Oxfam was one of the key players in setting up the organisation, Brian Parsons of Bongo Go was then engaged to produce the first events then Richard asked Graham Radley (who he had worked with on Oxfam/Anti Apartheid's 'Yiva') to add his many years of music promoting experience to World Unlimited. Six events were held in the first year starting with an amazing Moseley Dance Centre show from Kanda Bongo Man and it is from that humble beginning that the organisation has grown to promote between 80 and 110 shows per year. Our aim is to present, via live performances, the best musicians from cultures worldwide as well as providing performance opportunities for UK based musicians including a focus on local artists.
Since 1989 World Unlimited has provided a valuable and significant contribution to the delivery and appreciation of global folk roots music throughout Birmingham and the West Midlands. We endeavour to continually develop the global roots music audience in the region for the benefit of all.
Organisations with whom we have worked during the last 20 years include:
Womad, African Promoters Network, The Irish Festival, Moseley Festival, Latin Promoters Network, Shambala Festival/Jibbering, Oxfam, Wychwood Festival, Medicine Bar, Birmingham International Music, Music Links, Moseley Folk Festival, Music Alliance and Wolverhampton Civic Hall venues.
We like to work in partnership with other organisations, venues, city councils etc as we can share our knowledge, develop audiences for marginalised music and link in to our own promotions. Our partnerships take shape in many different forms, we may for instance, work in an advisory capacity to bring our expertise into the planning of festivals and music events such as Birmingham City Council's Big Splash event whereas our partnerships with new venues like Kitchen Garden Café are about developing and building new audiences for each venue and for World Unlimited.
We have always brought not only the established touring artists into the region but have championed and showcased new and emerging talent over the years. For instance, Birmingham Town Hall's recent programme features many of the artists who World Unlimited have developed and grown an audience for year on year in Birmingham such as Seth Lakeman, Beth Nielson Chapman, Billy Bragg, Eliza Carthy and more. As these and many other artists are playing on bigger stages, World Unlimited is working to showcase current new and emerging artists.
Having built our performance events and workshops to up to 110 per year, World Unlimited have a significant list of events, too many to include here, and the following are highlights across the years, all artists are programmed by Graham Radley for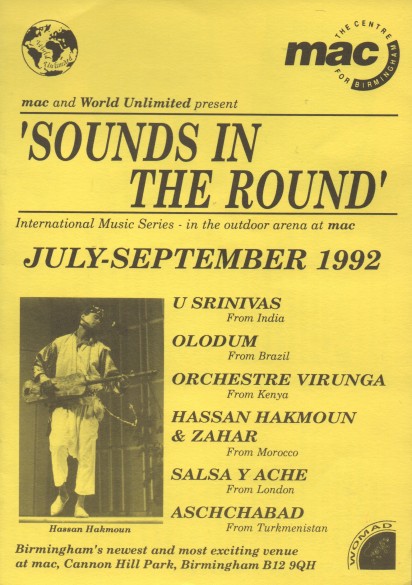 World Unlimited:
1989 Kanda Bongo Man
1990 Olodum, Kaba Mane
1991 John Chibadura & The Tembo Bros. Angelique Kidjo,
1992 Roots, Strings & 'Tings – – a partnership with Birmingham Town Hall to showcase local emerging artists. featuring Crucial Music, Afro-Bloc, Jamma, Conservatoire String Quartet Fire, Water & Rhythm – a live, open-air performance event in partnership with Brindley Place and B.C.C.
1993 Bhundu Boys, Global Jukebox with Transglobal Underground + Loop Guru + Zuvuya plus the concert for Nelson Mandela:co-organised by Graham Radley with with Refit music of this concert in honour of and attended by Nelson Mandela . The concert , at Symphony Hall was organised in 17 days and featured Aswad, Nusrat Fateh Ali Khan, Hugh Masekela, Shikisha etc
1994 Oumou Sangare, FunDaMental. The Longest Day – a one day world music festival in B'ham Town Hall featuring both local and international artists.
1995 Que Club special with Blackalicious + Hustlers HC + Attica Blues + Stash:
Recording of Andy Kershaw Show : Positively Test Card + Eliza Carthy\Nancy Kerr + French Alligators + Abana
1996 Music Links – a one night event at Birminghams Que Club featuring Afro Manding Drumming Troupe + Thari + Olodum Banda Juvenil: Hukwe Zawose Trio + Wagogo Women's Drum & Dance Ensemble,
1997 An artist showcase at Music Alliance's annual conference: Pa Jobarteh & Kaira + Dhol Foundation + Heera Dancers: Miguel Poveda
1998 One World Project in collaboration with Oxfam, providing a platform for cross- genre, multi-cultural, Birmingham based artists: The Ananda Shankar Experience & State of Bengal: Natalie MacMaster
1999 Schools project with African Legacy: Rizwan & Muazzam Qawwali
2000 Splash! – over 80 different performances plus a workshop series for BCC/BBC across 12 stages: Tony Allen
2001 Drummers Of Burundi/Tananas/Chartwell Dutiro, partnership with Womad and Symphony Hall: Badmarsh & Shri
2002 Tashi Lhunpo Monks: Spirit – a music celebration to coincide with the Commonwealth Games programmed for BCC including Paul & Aidan O'Brien & Joe & Enda Molloy + Scanlon School Of Dance, Jazz Jamaica Allstars, Soweto Kinch, Drop The Box, Pritam Rhythm Tribe, Aashiq Al Rasool
2003 Changui De Guantanamo:Yat-Kha,
2004 Papa Noel's Bana Congo: partnership with St Patrick's Festival – Silver Bough plus Quelle Fromage
2005 Los De Abajo: Diaspora – partnership with Desert Groove & African & Caribbean Music Circuit -with Smadj special guest Amina & DJs Phil Meadley, Digital Bedouin & Una Musical Bruta
2006 Maurice El Medioni: Stella Chiweshe
2007 King Creosote with Pictish Trail: Nuru Kane
2008 Devon Sproule & Paul Curreri: Ska Cubano
In 2009 our 20th Anniversary year we will see the return of the amazing Kanda Bongo Man, a workshop series with Matimbah Kuadashe, a new bigger Music Room series for local artists including the Old Dance School, Lazy Lizards and Kings Of Spain. Other artists booked in include JTQ, Transglobal Underground, Rachel Unthank & The Winterset, Ben Taylor, Ruarri Joseph, the Handsome Family, Judith Owen and a special link with Symphony Hall's Seth Lakeman show as Seth has kindly agreed to be World Unlimited's patron during our 20th Anniversary series.
World Unlimited 1989-2009; 20years of musical adventures & still on a voyage of discovery.