Yardley Wood, Birmingham
William's Conquerors
Bob Adams guitar
Brian Harbison lead vocal, bass guitar
Bryan Miles drums
Mick Webley lead guitar
In the early 1960s, Yardley Wood was a quiet, suburb of Birmingham. Had you taken a bus from the city centre to the terminus and stepped off to hear guitar sounds emanating from the Church Hall, you probably wouldn't have agreed. This was the practice ground for "The Vaqueros", a local group. Sporting Futurama guitars (all six string), Brian Harbison, Mick Webley and Andy Grace formed the front line with Bryan Miles on percussion (one snare, one symbol and a six foot diameter bass drum).
The music was instrumentals by The Shadows, The Ventures, Duane Eddy etc. The lads only booking at this stage was for the quarterly Christ Church Youth Club dance. They were all active members of the Youth Club and after a Wednesday night meeting back at Brian's house, another member Bob Adams demonstrated his superior guitar skills by playing a bar chord. This technique had not yet been mastered by the trio of guitar, strumming "cowboys" the meaning of which in Spanish is "Vaqueros". Bob, or 'Nob' as he became more affectionately known was immediately drafted in to replace Andy. Brian Harbison replaced his six string for a bass and Bryan Miles updated his drum kit. A change in music style introduced vocals by Chuck Berry, Buddy Holly, Everley Brothers etc.
The Vaqueros
At this stage, no lead singer had emerged and so it was that they enlisted the services of Mick "Fish" Fisher spotted performing an outrageous version of the old blues classic "Shame" at another local church Youth Club, Holy Cross. "Fish" was not only a nutcase well ahead of his time musically, but someone who added another dimension of sound to the line-up. A more raucous style of rock/R & B developed and a name change to "William & The Conquerors".
As a semi-pro, five piece, the lads played an increasing number of local bookings at weddings, Youth Clubs and private functions. Regular gigs at Hopwood Caravan Club and The Meadway supplemented by a weekly residency at The College Arms in Kingstanding, led to 5 – 6 bookings per week by the end of 1964. During this year, the group invested in bigger and better equipment, including their own van, which was an ex "Brook Bond Tea" delivery vehicle. This choice obviously proved that they were way before their time i.e. the association of "Tea" with the behaviour of "Chimps"!
They auditioned for Van Kinson Promotions at The Cedar Club and took on a new manager from Excelsior Artists, Dick Homans. By the end of that year, they had also started playing all-nighters at The Chateau Impney with such artists as Dusty Springfield, Screaming Lord Sutch and The Chicken Shack. In early 1965, in the Midland Beat Competition finals, they lost out to The Con-Chords and The Kingfishers. Differences of opinion with "Fish", led to the decision to perform all the vocals, with Brian Harbison taking up the mantle of lead singer from mid-March, Fish being happy with a £45 "golden handshake". The group then became, "Williams Conquerors" developing a blend of harmonic vocals, performing in a more Soul/Tamla/ Blues & Rock style.
There was an increasing desire to succeed, talk of turning professional was rife, but more importantly they realised the need to start writing their own material. This was developed as they progressed through the quarter and semi-finals of The Midland Beat Competition. Blue, Love That Is True, It's Too Late and You Left Me, were all Harbison originals penned during this period, as they set their sights on winning "The Midland Beat Competition".
It was hard work developing their portfolio and building up a stage repertoire, but by now they were playing with such artists as PJ Proby, Georgie Fame, Cliff Bennett and the Rebel Rousers, The Animals, Lulu and the Luvers. In June 1965, the hard work paid off. Williams Conquerors won The Midland Beat Group Competition Final beating the UK Bonds, Shooting Stars, Marbells, Size Six and The Telstars. Blue, With Love That Is True, were two of their originals, that along with Roadrunner (Bo Diddley) gave them the edge over the other contestants, borne out by the judges' comments emphasising this fact. The lads won a recording test with Alan Freeman of Pye Records, £50's worth of equipment, a trophy and a string of bookings on the well-known local Reagan circuit.
They purchased a new van and whilst playing at Corby Civic Hall with Cyril Stapleton, were invited to Studio A at Radio Luxembourg to record their original work of four tracks. They also appointed a new manager, Graham Bott and had been offered two different German, three-month contracts. Things couldn't be better! Other demo sessions at Vincent Ladbrook and Tetlow Studios produced material contained within the album and in October 1965, a five-year contract with Pye was in the bag. As triumphant as the king in 1066, Williams Conquerors returned to Hastings to perform a concert at the Witch Doctor, followed by a tour of the town on a float. The event certainly proved to be "one in the eye" for the indigenous population!
In 1965, the Brum Beat scene was seemingly the place to be and Williams Conquerors were excited to be part of it. Alex's pie stand at Snow Hill was a place to gather and chat after bookings. Ten Pin Bowling with The Applejacks and Andy Clappers became a recreational mechanism. Playing with groups from Birmingham that had "made it" such as Spencer Davis, The Fortunes and The Applejacks and other successful, nationally known bands such as Them, Sorrows, Yardbirds, Johnny Kidd and the Pirates, Mojos, Zoot Money and Alex Harvey provided the inspiration to make them decide to turn professional. In order to do this, yet again changes had to be made. A new programme was to be learnt. New stage gear was bought and most significantly, a new drummer was required to replace Bryan Miles who did not wish to turn pro and risk his career!
Derek "Pecker" Woodward was recruited as a replacement from the "Dueces Wild", a local group that had just returned from France. Other significant events that occurred at the back end of 1965, a full front page on the Midland Beat magazine. The opening of their own venue, "The Bent Boot" at The Golden Eagle in Hill Street, Birmingham and a performance in front of talent scout Martin Wyatt. Nob's father, who was a keen DIY man, had ensured that maximum security was employed to protect the van and its contents, as the lads futures would be dependent on it. Padlocks had been fitted to the rear and side doors, grills to the back windows. An alarm and immobiliser completed the job. Most importantly, however, were the new wooden doors adorning his garage, which housed the sacred van.
Their last gig as semi-pros was at the Belfry – the New Year's Eve Ball. It was a cold and windy night. Nob, having dropped off the rest of the band, arrived home at 3.00am. Manoeuvring the van into the garage was a tricky job with little to spare on either side. Confident in his driving ability, Nob reversed the van and unceremoniously smashed the garage door to bits! He hadn't noticed that it had blown shut! The next day brought several comments from shocked neighbours as they observed the van's intricate parking, half in and half out of a partly demolished garage. That must have been some party Robert was at last night and anyway what exactly is a professional musician? January 1st 1966, was the start of their professional career and Mick Webley (lead guitar) bought a new Gibson Stereophonic guitar and two Vox amplifiers. "Nobby" (rhythm) a Gresch Anniversary, Brian a blonde Gibson EB2 bass and "Pecker" a new set of Ludwig drums.
On 28th January, Williams Conquerors recorded six numbers for BBC Radio. The programme was to be one of the "Beat Nite" series entitled "One Night Stand" and also featured the newly formed Move from Birmingham. Compered by Tom Coyne and produced by Michael Ford, it was broadcast on February 2nd. The tracks played were Night Train, Watch Your Step, Watcha Gonna Do About It, Land Of A 1000 Dances and the self-penned She (Harbison) and Education (Adams). The latter Nob allegedly wrote in 1 1/2 hrs in the smallest room in his house, to make up the tracks required!
As the year progressed, they auditioned for Galaxy Entertainments at Wycombe Town Hall, Romford, Essex. This was for Don Arden who managed The Small Faces. They bought some "mod" gear from Carnaby Street to enhance their image and recorded Leave That Town and She both Harbison originals. That was with Alan Freeman and Martin Wyatt and was to be their first release for Pye. Whilst travelling back from Wycombe in the early hours, through the country roads of Gloucestershire, the lads were not too surprised to be pulled up by the local fuzz. This happened quite often because of the blacked out van windows and the padlocked rear doors. "Where have you been and where are you going?" – the normal ritualistic questions were fired at Brian, who satisfactorily answered them. The next part of the investigation was not quite as expected, as the officer threateningly shone his torch into the van until reassured that Brian was wearing shoes!!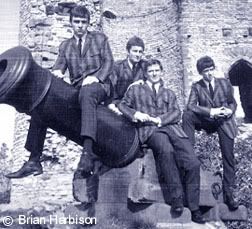 The investigation then moved to Nob in the passenger seat and Mick and Peck who were both asleep in the back of the van. Imagine being woken up after an exhausting night's work by a policeman shining a torch in your eyes shouting "Show us your feet!" If anyone has the slightest idea what that was all about, please let the lads know!
Brian was writing to the likes of R. King in Denmark Street (Tin Pan Alley) in an attempt to secure a publishing contract whilst frantically working both the top local and national scene 6/7 nights at week. Gigs at The Ritz, Kings Heath, Plazas Old Hill and Handsworth were played with Listen (Robert Plant and John Bonham), Move (Roy Wood, Carl Wayne, Bev Bevan, Ace Kefford), Idle Race (Jeff Lynne), The Mods, Cheetas, King Bees (later Craig), Cock-a-Hoops.
Travelling to Stoke, Corby, Newquay, Wilmslow, Derby, Wellington, Evesham and regularly appearing at Club De Danse, Colchester, Flamingo Club, London, Top of the Town, Manchester, Victoria Ballroom, Cambridge, Tavern Club, Norfolk, Drill Hall, Newmarket, Regal Ballroom, Derby, Casino Club, Leicester, Glen Ballroom, Llanelly, Twisted Wheel, Blackpool etc., they built quite a following. During May and June, demo recording sessions at Tetlow Studio produced tracks such as Gotta Get Away and I'll Always Love You in an attempt to represent a sound more representative of their live performances. In August, Williams Conquerors became The Frame and during September and October, She, Leave That Town, My Feet Don't Fit In His Shoes and The Spiv were recorded for RCA.
To read the continuation of the Williams Conquerors/Frame story,
click
The Frame
With Special Thanks
to Brum Beat
Copyright©John R Woodhouse
Copyright © Bob Adams & Brian Harbison
Compiled by Keith Law