Birmingham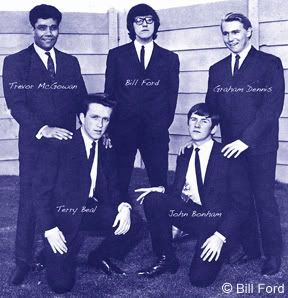 The Senators in 1964
Terry Beal lead vocal
John Bonham drums
Graham Dennis rhythm guitar
Bill Ford bass guitar
Trevor McGowan lead guitar
The Senators unknowingly made rock music history in 1964 when they recorded a song called "She's A Mod" at Hollick & Taylor Studios in Birmingham. This was the first ever recording to be released featuring a young drummer called John Bonham – long before he became part of Led Zeppelin – one of the most successful rock bands of all time!
Bill Ford, who played bass guitar in The Senators, remembers those days well and has kindly supplied this exclusive biography of the band as told in his own words.
Bill Ford in 1964
Bill: I joined The Senators in 1962-63. At that time we were called "Bobby Child and The Sidewinders", the personnel being Barry Goodchild, a.k.a. Bobby Child (vocals), Trevor McGowan (lead guitar), Graham Dennis (rhythm guitar) a guy called Mick? on drums and John Hunt on bass guitar who I replaced. This line up continued for a while until Barry left and we auditioned for a replacement singer. After many auditions we chose Terry Beal, an extremely talented singer and composer, as well as being a multi-instrumentalist. Terry had originally played in "Terry Webb and The Spiders" along with his old pal John Bonham.
*Terry Beal had played in a band called 'The Nighthawks' between 1960 and 1962 with bass guitarist Mike Ellis with whom he formed the Reddich group 'The Blue Star Trio' along with drummer Bill Harvey. John Bonham replaced Bill on drums at the end of 1962 and the group performed all over the area. They backed Roy Edwards who was a professional singer (formerly from The Squadronaires) and also made some recordings for the BBC at their Broad Street studios in 1963. Mike Ellis went on to join Johnny Neal and The Starliners (*this additional info was supplied by Mike Ellis).
Bill: At this stage The Senators still had an unreliable drummer and were let down by him on a number of occasions. We had to call on other drummers to gig with us and one of these was Alan Eastwood. He was a great drummer but also a mean blues singer and used to take the mike sometimes and do a couple of R&B numbers with us. Alan used to play with The Shouts, and I remember buying their single "That's The Way It's Gonna Be" (Alan Eastwood was also in The Brumbeats and later formed The Exception).
Our drummer let us down again one night when we had a double gig. Terry played drums on the first set at the first gig at Perry Hall, Bromsgrove. During the break, he shot off in his car to fetch his "mate" who he said could play the drums. He came back 20 minutes later with this lad named John Bonham. We started the second half and it was as if someone had stuck rocket fuel in our drinks! We went down a storm and John joined us as our drummer there and then.
(Note: John Henry "Bonzo" Bonham was born May 31, 1948 in Reddich, Worcestershire where he was raised and lived for almost all of his life. He learned to play drums at a young age, initially using a home-made drum set before graduating to a second-hand one. By the time he left school at 16, he was playing in his first band called "Terry Webb and The Spiders" while working by day on building sites with his father.)
John Bonham in 1964
With this final line up, we played regularly at many of the Birmingham venues and pubs. Ma Regan's places – The Ritz, The Plaza and The Cavern, the West End Ballroom and The Moat House Club, just to mention a few. Terry took on the name of Bobby because we had a professionally sign written van! Also because of our connections with Redditch where John and Terry came from, we had a big following there as well – regularly playing Redditch Youth Club, Alcester Trades and Labour Club and other pubs and clubs in the Worcestershire area.
We won many talent competitions (to no avail) but were selected in 1964 along with 13 other groups to be on the 'BRUM BEAT' album with track 1 called "She's A Mod", an original composition by Terry Beal and recorded at Hollick and Taylor studios in Birmingham. Soon afterwards, we were approached to re-record this song at, I think it was Decca Studios in London, to be released as a single. Another song called "I Know A Lot About You" was chosen to be recorded as the B-side. On this occasion, the accompanying publicity photo was taken.
(Note: the Brum Beat LP was released on Dial Records, a label set up by 24 year old London-based David Gooch with the intent to promote undiscovered British talent. Decca Records also released a Brum Beat album of West Midlands groups the same year).
The Senators single was released the same week as "Tell Me When" by The Applejacks, which became a hit with the help of Mickey Most's backing. Our single, due to lack of funds (David Gooch becoming bankrupt!) was withdrawn from sale. The music was published by Dick James Music and She's A Mod was used in the sound track of a biopic film called "Steppin' Out" featuring the latest dance and fashion trends. The film was shown in cinemas accompanying the original "Alien" movie.
"She's A Mod" was picked up by an Australian band called Ray Columbus and The Invaders who recorded their own version that was at number 1 in their charts for about 14 weeks! This version can be found on their compilation albums along with cover versions of Beatles and Rolling Stones hits. There's even a rap song that can be found on the net with a sample of the Australian version on it!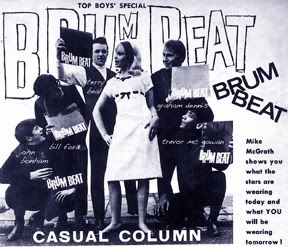 We made many other demos but never managed to get that elusive deal. We turned down offers to play the clubs in Hamburg so who knows what might have happened? After some time, when gigs were getting harder to get because of the number of bands around, we decided to call it a day and The Senators broke up. Terry Beal continued to gig for some time after the split with another line-up also called The Senators.
I, along with John, played with Nicky James for a short while. His band then was called "The Wild Cherries" but it was later changed to The Nicky James Movement. They had an amazing lead guitarist called Mick Hopkins who I later saw in a band called Copperfield. I only played with them for a few weeks and then decided to pack it all in and continue with my job as a graphic artist (John Bonham joined Pat Wayne's Beachcombers).
I took up trying to play classical guitar in the late 70s and had lessons from a Birmingham lad called Adrian Ingram (who also gave lessons to Dave Hill of Slade). Adrian is now an internationally renowned jazz and classical guitarist and author (see the net). I had the privilege of doing the illustrations and helping produce some of his early jazz guitar books and tutorial tapes.
I enjoyed my time with The Senators. We played alongside some great brummie bands doing regular gigs with the Spencer Davis Group (watching Stevie Winwood in awe!), Denny Laine and The Diplomats, Carl and The Cheetahs, The Redcaps, The Modernaires, The Vikings etc. as well as appearing on the same line ups as Marianne Faithfull, The Merseys, and the great John Lee Hooker. It was great fun in those days playing in Brum and we always seemed to end up at Alex's Pie Stand for a burger or hot dog, and a chat with other bands after a gig.
Saturday mornings always seemed to be spent in Jones and Crosslands or George Clays on Broad Street where we had most of our gear from. I had the dubious honour of having had the first and second Hofner Violin Basses in the midlands because when Clays imported one for me they asked if they could display it in their window for a week. I agreed and during that week, their window was smashed and the bass stolen! I had to wait until they got a second one in.
I kept in touch for a short while with Graham Dennis and I used to see John Bonham occasionally right up to a few weeks before his death. I still treasure the autographed Led Zeppelin albums he gave me and still have the two complimentary tickets (face value £1 each!) he gave me when they played at The Odeon in Birmingham. Also right up until the death of Mick Bonham (John's brother), I had been in conversation with him to add revisions and photos of The Senators to the biography he was completing about his brother's career. Sadly, he passed away before we could do this so there is only a brief mention of The Senators and only Terry Beal is mentioned. One miss-quote in the book lists the personnel as being Terry Child as vocalist and Terry Beal on guitar. In reality, they are one and the same person.
The only other people I have seen from those happy days were Bill Hunt and two guys from one of the other Brum Beat LP bands who I met on holiday in Mexico. It would be great to have a reunion sometime (unless I've missed them) while there are lots of us still around. It would be great to hear from anyone who remembers us.
Happy Memories – Bill Ford.
With Special Thanks to
Brum Beat
Copyright © John R Woodhouse
and Bill Ford for supplying the text and photos of
The Senators shown on this page.
Copyright © Bill Ford
Compiled by Keith Law