New Street
A once beautiful cinema, now divided into eight screens. The Paramount Theatre opened on 4th September 1937 with Errol Flynn in "Charge of the Light Brigade". Keith Law gives us some history of the Odeon.
The original seating capacity was for 2,439 with 1,517 in the stalls and 922 in the circle. It was equipped with a Compton 4Manual/10Rank theatre organ which was opened by Al Bollington. The Paramount had a large stage, dressing rooms and a cafe/restaurant.
In August 1942, it was sold to Oscar Deutsch's Odeon Theatres Ltd. and it was re-named Odeon. In 1965 it was closed for a period while major modernisation was carried out.
The Odeon was used for many live shows during this period of time, including appearances by The Beatles.In May 1988 the Odeon was closed for conversion into a six screen cinema, which re-opened in August 1988. Unfortunately, the Compton organ, which had still been used for concerts, was dismantled and sold. In 1991 two additional screens were opened in the former restaurant area and a former bar in the basement.
The cinema used to have a very ornate auditorium until it was altered. Now it is all very plain, including the foyer entrance. The last refurbishment was carried out in 1998.
As previously mentioned, The Odeon was used for many live shows during this period of time, including appearances by The Beatles. Indeed, for many years it was the venue, for the then many 'Package Shows', which consisted of one main star attraction, and several support acts. Sometimes the package consisted of many act, that were all charting at the time.
The star names are many and too numerous to name here, but I have personally seen many shows, including,
Bob Dylan, who complained loudly over the Mic, that the stage floor was dirty,and required cleaning!
Also, Duane Eddy, The Everly Brothers, Gene Vincent, Mickie Most, The Shirelles, Mike Bloomfield, Darry Hall and John Oakes and many more.
Here's my ticket from the The Everly Brothers concert
I even bumped into Eric Burdon of The Animals. He was outside the front, and we had a lovely conversation about his brand new Ford Mustang, that was parked in New Street.
Steve Taylor has sent these ticket stubs through to us of some great past gigs at the Odeon
Ron Brinsdon has sent these tickets stubs through to the archive of some great gigs at the Odeon
Steve T has sent these tickets stubs into the archive of some more great gigs at the Odeon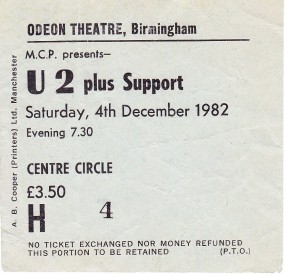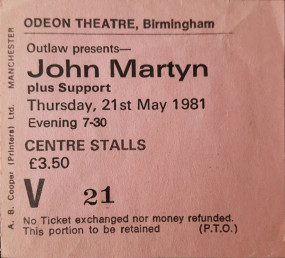 Our aim to build a complete list of gigs at The Odeon. Here's a start but we need your help!
Woody Herman & His All-Stars – 12/04/59
Ella Fitzgerald / Oscar Peterson Trio – 24/03/61
Cream – December 1964
Manitas De Plata 06/12/69
Beach Boys, Eclection 25/11/70
Manitas De Plata 11/12/70
Marvin Welch & Farrar 01/11/71
The Who 20/11/70
Emerson Lake and Palmer 11/12/71
T Rex 09/06/72
Lindisfarne, Genesis, Rab Noakes 25/10/72
Emerson, Lake and Palmer 24/11/72
Led Zeppelin 16-17/12/72
Santana 16/11/73
Abba 10/02/77
Twiggy 16/04/77
Sutherland Brothers & Quiver 18/09/77
Rose Royce 01/10/77
Denice Williams 06/10/77
Status Quo 23/11/77
The Jam 22/05/78
Graham Parker and The Rumour 19/03/79
Secret Affair 19/04/80
Dr Feelgood 01/12/80
John Martyn 21/05/81
The Undertones 20/06/81 (rescheduled from 07/05/81)
The teardrop Explodes 22/06/81
O.M.D. 08/11/81
U2 04/12/82
Thanks to Marcel for sending these gigs through that he went to in 1985
April 9,10 Mike Harding
April 11 Tears for Fears
April 16 CCTV – Hagler –v- Hearns
April 20 King
April 23 The Kinks
April 27 Jagjit & Chitra Singh
April 29 Sky
April 30 Sheila Walsh
May 2 Mama's Boys
May 4 Rick Wakeman
May 7 The Clancy Brothers with Tommy Makem
May 9 Doris Collins
May 10 The Alarm
May 11 Beshara & Leroy Smart
May 15 Tears for Fears
May 16 Magnum
May 17 Uriah Heep
May 18 The Enid
May 24 Beshara & Leroy Smart
May 25 Chris Rea
May 31 Dr. Hook
June 9, 10 The Style Council
June 20 The Damned
July 13 Cliff Richard Gospel
August 9 Kris Kristofferson
Sept 13 James Last