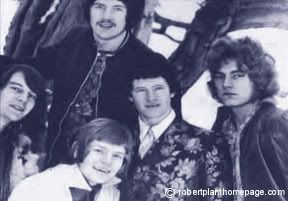 Chris Brown, Kevyn Gammond, John Bonham, Paul Lockey, Robert Plant
This Band of Joy was originally formed in West Bromwich, near Birmingham, England by Vernon Pereira, also the lead guitar player in the Wellington Kitch Jump Band
and great friend of John Hill, who was later to die in a tragic road accident when his then band's (Possessed) van was in a crash with a stationary truck.
However this Plant/Bonham lineup was the definitive and legendary one
1967-1968
Robert Plant lead vocals
Kevyn Gammond guitar, vocals
Chris Brown organ
Paul Lockey bass guitar, guitar, vocals
John Bonham drums
1968 last lineup
* Robert Plant – lead vocals
* John Bonham – drums
* John Hill – bass guitar
* Mick Strode – lead guitar
Roadies
* Noddy Holder
* Ross Crutchley
* Steven Latham (aka Big Bruce)
* Ben Randle
The band is notable as the last of several line-ups included two musicians, Robert Plant and John Bonham who went on to join Led Zeppelin; and, to a lesser degree, because the band's roadie was Noddy Holder.

The earliest incarnation of the group was formed in 1966 by Plant.
Conflicts with the band's management led to Plant leaving the group after a few months.
He quickly tried to form his own Band of Joy, but it soon folded. A third incarnation of the band, including Plant's childhood friend John Bonham, lasted from 1967 to mid-1968.
Their brand of soul and blues was popular with Birmingham mods.
The final lineup recorded a number of demo recordings in early 1968, but broke up in May 1968 when a recording contract failed to materialise.
At some point the lead guitar duties were taken by Dave Pegg, who later played the bass guitar with Fairport Convention and Jethro Tull.
The story was recalled by Robert Plant when he joined Fairport at the Cropredy Festival in 1986, with Dave Pegg recalling, that it was Plant who fired him from the band.
The very last line up of The Band Of Joy consisted of Robert Plant, John Bonham, John Hill and Mick Strode in 1968. John Hill was a great friend of Bonham,
they were at school together, he was playing bass in a band Called Uncle Joseph.
This was a blues three piece with Simon Fox on drums, later the drummer with Be bop Deluxe.
At a famous art students party in Lye, a black country town, Robert and John co-opted Hill and strode into the band to complete a tour of scotland for the infamous promoter Duncan Macinon.
Please read George Melly's first book where he devotes a chapter to Duncan. There are many fond memories of this tour, alas not for Bonzo. John Hill continued playing in The Wellington Kitch Jump Band and also did a stint with the Foundations.
In the 1990's he was the bass player with Vincent Flatts Final Drive ( stage name Boss Hog ), they produced two albums and more recently with The Notorious Brothers
( stage name Johny Flambe ), also producing two albums. Mick Strode is still playing fine blues guitar. Plant and Bonham eventually joined Led Zeppelin.
Kevyn Gammond (stage name "Carlisle Egypt") and Lockey subsequently formed the country-rock band Bronco, with singer Jess Roden, bassist John Pasternak,
drummer Pete Robinson, and future Robert Plant sideman Robbie Blunt.
They made two albums before breaking up after a serious road accident.
In 1977 Gammond and Lockey revived the Band of Joy, rounding out the lineup with Pasternak, Robinson, and keyboardist Michael Chetwood.
They invited Plant and Bonham to contribute to their 1978 self-titled album, but nothing came of it. The group released a second album in 1983 before breaking up.
Gammond later joined Robert Plant in the Priory of Brion from 1999 to 2001.
A few years after BOJ split up, Gammond and Lockey went on to play in Bronco when Jess Roden left Bronco to go solo.
Pete Robinson, from an earlier incarnation of BOJ, was on drums, with John Pasternak (bass) and Dan Fone (keyboards). Jess Roden and Paul Lockey were never in Bronco at the same time.
Discography
2003
Sixty Six to Timbuktu – Robert Plant retrospective album includes some Band of Joy recordings
With Special Thanks to
Copyright-© John R Woodhouse
Brum Beat
My involvement with the BOJ was both professional and social.
We were all from West Bromwich, and as such knew each other very well.
All the bands intermingled with one another, with musicans all playing in the same bands
at some time or another.
I worked and recorded with Paul Lockey, and co-wrote and recorded several songs together.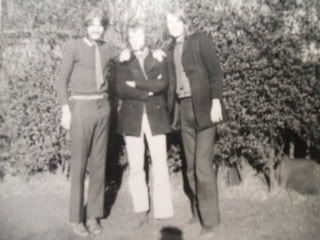 Keith Law, Mickey Cox, and Chris Brown
Chris Brown was another local musician I had the pleasure to know and work with.

With Chris Brown, Paul Lockey and Harold Barber (all three BOJ)
at a night out at The Factory night club in Birmingham

Complied by Keith Law