THE ACCUSED WERE:
PAUL PANIC
MARTIN HOPELESS;BASS
DAVE BROWNE;GUITAR
SIMON BAKER(COCKROACH);DRUMS
HELPED AND HINDERED BY PAUL PERKINS AND ED ECCLES
ORIGINATING FROM A TOTALLY RAW BAND CALLED "THE ZITS","THE ACCUSED" WERE FORMED IN LATE 1978 IN SOLIHULL ,THE POSH END OF BIRMINGHAM.THE BAND GIGGED AROUND THE MIDLANDS WITH THE LIKES OF "SURBURBAN STUDS","THE PREFECTS",AND" THE KILLJOYS".IN 1979 WE SET UP "NO RIP OFF RECORDS" AND RELEASED THE INFAMOUS "MELL SQUARE MUSICK E.P",FEATURING 3 TRACKS OF OUR OWN",SOLIHULL","ARRESTED",AND "GENERATION GAP",AS WELL AS ONE SONG EACH BY "021",THE UNDERTAKERS,AND THE CRACKED ACTORS.JOHN PEEL PLAYED IT A FEW TIMES,AND WE EVEN SENT A COPY TO PRINCE ANDREW,(HE SENT IT BACK!)WE COULD'NT REALLY PLAY BUT THAT'S WHAT PUNK WAS ABOUT.WE WERE INTO CHAOS AND BEING LOUD!,WE EVEN HAD A SONG CALLED "WE'RE CRAP".
WE SUPPORTED THE U.K.SUBS IN FRONT OF 2,000 PEOPLE,AND OUR FINAL GIG WAS AT THE APTLY NAMED " EXIT CLUB" IN BIRMINGHAM SUPPORTING THE "COCKNEY REJECTS",WHO NEVER TURNED UP DUE TO BEING ON" TOP OF THE POPS" WITH "BUBBLES".SOLIHULL COUNCIL ACTUALLY BANNED US FROM PLAYING IN SOLIHULL DUE TO THE LYRICS OF THE SINGLE "SOLIHULL".WE FINALLY CALLED IT A DAY AT THE END OF 1980.PAUL AND MARTIN LATER FORMED "BRIDE JUST DIED",WHO STILL EXIST IN A DIFFERENT FORM TODAY,DAVE NOW WORKS IN A CASINO IN MIAMI,AND SIMON IS A FIREMAN."BARBERELLAS" CLUB IN BIRMINGHAM WAS OUR REGULAR HAUNT, AND WE GOT TO PLAY THERE ONCE, WITH THE UK.SUBS,GREAT DAYS!!!
A ONE OFF "ACCUSED" REUNION WAS INITIATED IN 1993 ,PUNK WILL ALWAYS BE IN OUR HEARTS!,PUNK WILL NEVER DIE.
OUR ONLY RELEASE WAS THE "MELL SQUARE MUSICK E.P.,ON NO RIP OFF RECORDS IN 1979;A FOUR BAND E.P
THE ACCUSED……."SOLIHULL",ARRESTED,AND,"GENERATION GAP"
021………………….."DON'T WANNA BE A ROBOT"
THE UNDERTAKERS.."ILLUSIONS"
CRACKED ACTORS…"DISCO,OH NO"
THIS WAS A LTD EDITION OF 1,000 COPIES (COS WE COULDN'T AFFORD ANY MORE!),APPROX 400 WERE SOLD OR GIVEN AWAY AT GIGS.
MELL SQUARE MUSICK THE MOVIE 2 X DVD RELEASED
FINALLY RELEASED MELL SQUARE MUSICK THE MOVIE THE STORY OF THE ACCUSED AND THE BIRMINGHAM PUNK SCENE IN 1979 A 2 DVD SET WITH A RUNNING TIME OF APPROX 3 HOURS DOCUMENTARY MUSIC AND LAUGHS DIRECTED BY PAUL PANIC OVER A 5 YEAR PERIOD ALSO FEATURES INTERVIEWS/MUSIC WITH CRACKED ACTORS/021/THE UNDERTAKERS/HELPLESS HUW INCLUDES RARE SUPER 8MM FILM FROM 1978 AN ACCUSED RE-UNION AND BRAND NEW SONG, ACCUSED ON JOHN PEEL TAPE AND PAUL PANICS ADVENTURE TO TRACK DOWN ORIGINAL MEMBERS OF ALL FOUR BANDS THAT INCLUDES FILM FROM BIRMINGHAM/SOLIHULL/LONDON/MEXICO/WEYMOUTH LTD TO 250 COPIES MANY EXTRAS ON DISC 2 ONLY 250 COPIES HAVE BEEN PRESSED SO ITS FIRST COME FIRST SERVED.TO ORDER EITHER
SEND A PAYPAL PAYMENT OF £15.00 AND YOUR ADDRESS TO PAULPANIC@FSMAIL.NET
OR VISIT MELL SQUARE MUSICK SITE ON MY SPACE MUSIC(JUST ENTER MELL SQUARE MUSICK INTO GOOGLE AND CLICK ON THE LINK) TO PAY DIRECT VIA PAYPAL/CREDIT CARD BUTTON
POSTAGE AND PACKING IS FREE WORLDWIDE
MANY THANX HOPE YOU ENJOY IT!!!!!!
Some great photos of Punk in Birmingham in 78/79 from Paul of The Accused. Including this letter from Buckingham Palace, classic!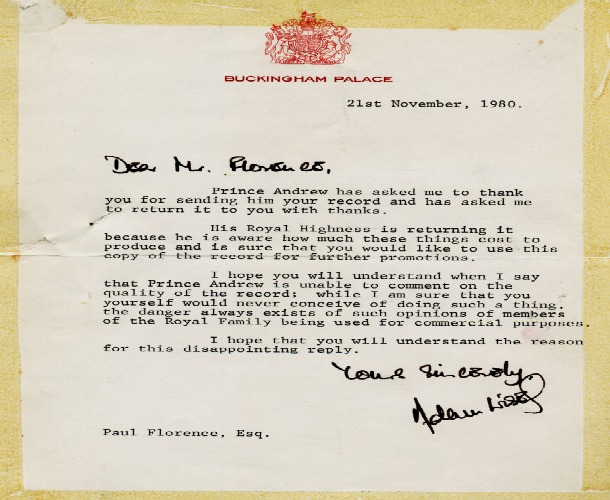 Next up are photos courtesy of Paul Panic of assorted The Accused shots, on stage supporting the brilliant UK Subs at Digbeth Civic Hall in 79 and graffiti promoting it!
[fgallery id=1 w=450 h=385 t=0 title="The Accused"]