The Old Hill Plaza was one of four venues run by the legendary Irish husband and wife team Mr and Mrs Regan. Mary 'Ma' Regan was an ex-schoolteacher and a shy but formidable woman. She came over with my grandfather Joe from Ireland when they were teenagers. During the Second World War she was a teacher and became head of PE for girls for Warwickshire. After that she opened tea shops in the Birmingham area and started tea dances. This then led to the dance halls. They started on a small scale and they had a lot of success. I remember once that Jerry Lee Lewis was due to play at one of her venues. For some reason there was an issue with his piano and they had to use my grandmother's. She set up The Plaza in High Street, Old Hill, 45 years ago. It was a dance venue, and hosted almost every top act that was in the Top 30, before later becoming a bingo hall. One of Mrs Regan's great pleasures was to tell people about The Beatles, The Rolling Stones and The Animals, who all played at The Plaza in the early 1960s.
Bob Bailey, who used to drive the bands, said of The Beatles: "When they played here, there was nowhere for them to stay so Ma put them up at her home in Woodbourne Road, Edgbaston." She would cook chicken and chips for The Beatles  and made sure Noddy Holder stayed off the ale. The clubs became known as "the Regan circuit" Acts on the circuit included The Beatles, Kinks, The Animals, Dusty Springfield, Brenda Lee, The Searchers, The Tremeloes, Gerry and The Pacemakers, Manfred Mann, The Moody Blues, Jerry Lee Lewis and Del Shannon. In their early days, the beat groups from the Wolverhampton area set their first sights on gaining a toehold on the emerging and rapidly flourishing, Birmingham beat scene. To play at either the Plaza in Old Hill or in Handsworth or the Ritz in King's Heath (the 'Regan Circuit') was seen as being tantamount to recognition of a group as possessing genuine 'potential', especially as it was quite likely that you would be playing alongside successful chart groups from Merseyside or Manchester. Hardly any of the groups who reached the Top Thirty during the years 1963 to 1964 failed to play at one or other of the 'formidable' Ma Regan's venues. John Howells of the 'N Betweens remembers the first time his band met Ma Regan: "We had changed our name from the Vendors to the 'N Betweensand had started doing more R&B stuff. We wanted to broaden our horizons somewhat and so we went and did an audition for the Regan circuit. We had been told that Mrs. Regan was not always easy to please but she seemed to like us and our style and we got a regular Monday spot at her venues. That meant that you would have to play at two of the venues during the evening, involving a quick hike across from Old Hill to Handsworth etc." Graham Gomery feels that being accepted on to the Regan circuit was an important step forward
"Getting an audition with Ma Regan was possibly a part of winning the Big Beat Contest, I'm not really sure. Whether that was the case or not, the important thing was that when you started to play on that circuit you got an opportunity to meet and hear other, better groups and that could only be beneficial to you. Coming around on that revolving stage at the Plaza Old Hill was a real event. You felt like a star, especially when you might be following a group like the Beatles, Big Three or Merseybeats etc."
The Express & Star columnist described Ma Regan as
'a softly spoken Irish ex-school teacher who uses the same psychology with the groups as she did with school pupils, discipline and organisation' and the Plaza Old Hill as the 'principal venue in the area for up and coming groups '. It is not surprising therefore that local groups felt that the first step towards success was acceptance by Ma Regan and the opportunity to play at one or other of her venues. It was thanks to an appearance at the Plaza in Old Hill and the personal recommendation of Ma Regan that the Strangers got an offer from Decca to appear on the Brumbeat album.
Bev Bevan, ex Move and ELO wrote:-
Former schoolteacher Mary Regan and husband Joe's original ballroom venue was the Gary Owen Club in Small Heath, not far from Birmingham City's football ground, St Andrews. Then came a converted snooker hall in York Road , Kings Heath which they re-named the Ritz Ballroom. Next came the Plaza in Handsworth, and finally the Plaza in Old Hill.The most memorable day in the short but eventful life of Denny Laine and the Diplomats was that of July 5th, 1963, when we were chosen to open the show for The Beatlesat the Old Hill Plaza on the Halesowen Road.

'Ma' Regan took care of the business side of things, leaving Joe to run the venues and act as compere, usually dressed in evening suit and black dickie bow.

He would confidently announce the various bands, groups and singers in his lilting Irish brogue. The Handsworth Plaza was the biggest of the four and regularly had half a dozen or more groups performing on the same night. Old Joe was not much of a book-keeper, and a few times, on a night off, we would roll up at the Plaza", convince him that he most definitely had booked us for the night, slot in with all the other groups there and play a 30-minute set.

Then we would pick up our £12 fee and drive to Alex's pie stand in Birmingham to celebrate our little con trick. Mary and Joe Regan played a big part in the development of rock'n'roll music in the West Midlands by allowing dozens of local bands the opportunity to play these venues, in front of usually packed audiences.

They also brought to the area some top-line names. We opened for The Bachelors, Susan Maughan, Julie Grant and, also in 1963, an absurdly talented 13 year-old singer, songwriter, pianist and harmonica player who was promoting his big USA hit Fingertips. His name was Little Stevie Wonder.

But preceding The Beatles on stage – wow, this was something else indeed! Remember that this was the beginning of Beatlemania. John, Paul, George and Ringo had already had big hit records with Love Me Do and Please Please Me and had just registered their first number one with From Me To You.

They were currently topping the LP charts with their debut album Please Please Me. Because of our popularity in the Black Country, Joe Regan decided we were best suited for the unenviable task of being the group on stage directly before the biggest pop phenomenon since Elvis Presley.

Actually, the huge crowd – literally hanging from the rafters – was very good to us and many of our own fans were in the audience. Nevertheless we still got the occasional chant of "We want The Beatles, we want The Beatles" from the dominantly female crowd. This night was a double-header for the mop tops and their small roadcrew.

Firstly they were booked to appear at the Regans' other Plaza in Handsworth. Unsurprisingly, they ran late and our scheduled half-hour spot became an hour or more. Usually we would perform several Beatle songs in our set, but obviously we had to drop those from our repertoire.

Truth was, we were running out of songs to play and reverted to a couple of ambitious instrumentals. We included Hava Nagila (which had Denny playing lead guitar behind his back ) and the Dave Brubeck Quartet classic jazz piece Take Five, which featured me playing a drum solo in 5/4 time.

We realised The Beatles had finally arrived and we could hear them talking backstage. Then we saw them all watching us from the side of the stage. We finished our set, the curtains closed, the crowd now in a state of nervous, near hysterical anticipation. Then two, separate, unforgettable things happened.

Firstly, our rhythm guitarist (under strict instructions from his fiancé Gill),had the presence of mind to ask John, Paul, George and Ringo for their autographs. They all signed the reverse side of one of our Denny Laine and the Diplomats black & white, glossy, handout picture postcards. So there you have it – the four Beatles autographs on one side, and a photo of a group on the other that just happened to feature one Denny Laine, who, 10 years later, would join Paul McCartney in his band Wings.

This is a unique piece of rock'n'roll memorabilia that will one day fetch many thousands of pounds in a Sotheby's music auction. The second thing that happened is that Paul McCartney strolled over to where I was packing away my drums (no roadies in those days!) and began talking to me. Yes, Paul McCartney of The Beatles walked over to this awestruck kid from Sparkhill, Birmingham and said in his broad Liverpool accent:

"Aye mate, dat was really fab gear dat, really great like, y'know playing dat drum solo in 5/4 time like. Our drummer Ringo, he could never do dat!
The Plaza Bingo Hall at Old Hill ,has now closed following the death of 94 year old Mary. Compiled by Keith Law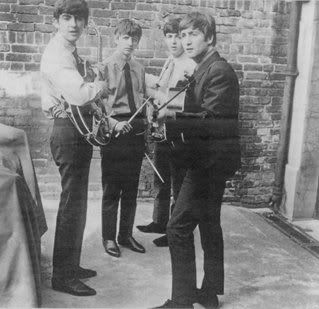 The Beatles at Old Hill
Photograph by Bob Summers, Birmingham History Forum The Ritz Ballroom in Kings Heath featured The Beatles on 15.02.1963 and Pink Floyd 16-12 1967
18 February 1967 – The Moody Blues with Traction and The Attack