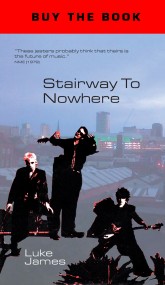 Group Members:
*Luke Sky (Lead Vocals & Guitars)
*Mulligan (Bass, Synth, vocal on Citinite)
*Dik Davies (Drums, percussion, backing vocals, bass on Technofascist, vocals on Big John / Hanoi Annoys Me)
*Miki Cottrell (Recorded and Live Sound Production)
As mentioned below Luke has now written his book and he has kindly sent the intro over to us for the archive. It's a great read, get it here
Stairway To Nowhere: Luke James
Introduction
On The Stairway, Off The Stairway
"I'm worried about Dik." Mulligan says.
We're standing out in the alley that leads to the entrance of The Rum Runner, or Duran Duran Way as it's becoming known. We rehearse in the Rum Runner, as do the chosen ones. The Beat filmed the video for Mirror The Bathroom inside the mirrored tack of The Runner. Mulligan and I are taking a break from another slog of a rehearsal, trying to come up with new material for the second album, and mostly failing. So, a quick breath of traffic fumes with our fags.
"What?" I ask. "Why?"
"I'm worried he might leave the band."
"Huh. You should worry more about me leaving." I say.
"Yeah. But the difference is … well, he might actually do it." Mulligan says.
Oh dear Jon, wrong thing to say, very wrong thing to say.
►►►►
"Goddamn it!" Miles yells and punches his desk. "I've lost two bands this week! First this asshole kills himself. This other asshole steals the truck and all their gear and drives off into the desert. I got gigs lined up, radio, TV, all kindsa shit. I don't need this. This is not some goddamned game we're playing here!"
No, it isn't. It's people's lives. Their deaths even. And soon, soon you pompous Yank git, there's going to be another one of your band's who are a singer/guitarist short of a full deck.
►►►►
"You sure about this?" Dad asks.
We're sitting in his black cab, parked round the corner from Outlaw Studios. I'm right back where Fashion recorded our first demo – was it only two years ago? It feels like bloody years, and all of them stacked on my back. I stare out at the grey veil of drifting rain.
"Yeah Dad. I'm sure." I turn and smile at him, an expression devoid of any warmth, "Fuck the music business, eh."
"But I thought the tour with that Irish band went well." He says.
"U2? Great band. Fucking disastrous tour for us. If you can call a dozen small clubs a tour."
"Well, long as you're sure." He says.
"Too late now anyway." I say.
On the way into town, we'd detoured along the Kings Norton Road and parked outside Annette's house. I was a bit nervous tiptoeing up the drive with the note, like a bleeding lovesick teenager with a Dear Jon note. I slipped the note through the letterbox and legged it back to the cab.
Dad drives me across town and lets me off outside New Street Station. Never ones to show each other much emotion we shake hands.
"All the best then, son. Stay in touch. For your mother. Y'know."
"Yeah. I will. Tarra Dad. Thanks."
I pick up my hold-all and guitar case and walk into the station. I don't look back. The message in the note I've just put through the boss's door runs a tape loop mantra in my head … Fuck this, gone to New York … … Fuck this, gone to New York … … Fuck this, gone to New York … to the tune of Message In A Bottle … Fuck this, gone to New York …… eee oh eee oh … Fuck this, gone to New York …… eee oh eee oh … Fuck this, gone to New York …
►►►►
In the 3 years that Fàshiön's original line-up existed (1978-1980) they put together some of the most innovative and original pop music of the time, music that would inspire a host of later successful bands and singers.
In the brief spotlight of their fifteen minutes of fame Fàshiön toured both the USA and UK as opening band for The Police, did a UK club tour with a then unknown band from Ireland called U2, opened for The B52s on their first ever UK tour, had a new band called Duran Duran open shows for them.
They also played gigs with:
Alternative TV, Billy Idol, Brent Ford And The Nylons, Brian James Brains, Chas And Dave, Chelsea, Dangerous Girls, Dansette Damage, Delta 5, Dry Rib, Gang of Four, Ha-Ha Germs, Hazel O'Connor, Ian Dury, Inner Circle, John Cale, John Cooper Clarke, Joy Division, Medium Medium, Moon Martin, Neon Hearts, Patti Smith, Richard Jobson, Robert Fripp, Squeeze, Steel Pulse, Steve Hillage, SVT, The Cramps, The Cure , The Damned, The Mekons, The Meteors, The Photos, The Ramones, The Reds, The Skids, The Specials, The Stop, The Stranglers, The The, The Tubes, Toyah Wilcox, UB40, and Wilko Johnson.
They released 3 singles in the UK (Steady Eddie Steady, Citinite, and Silver Blades) and 1 in USA (The Innocent). In 1979 they released the groundbreaking album Product Perfect. Their records were released on their own Fàshiön Music label, distributed by IRS/A&M Records.
Product Perfect Crawls From Wreckage To Mate With CD!
After 30 years with no time off for good behavior, Product Perfect has finally been released on CD. Re-mastered in LA by tech guru Stephen Lester, the CD is available from the band's websites.
New Fàshiön album out February 2009!
New Wave/Punk survivor Luke Sky emerges from his capsule to record a brilliant new album, Stairway To Nowhere.
A book of the same name detailing his hedonistic days with Fàshiön's original line-up will be published later this year.
Sample tracks and book excerpts are available at both: http://www.myspace.com/fashionlukesky/ and http://www.fashionlukesky.com
Ron Brinsdon kindly sent these sleeve shots of the debut Fashion single; Steady Eddie Steady, recorded at Outlaw Sound Studio's in Birmingham