Photo below via Dave Travis "Here's a photo that I took at the last night at The Rum Runner or 'Demolition Party' as it was referred to."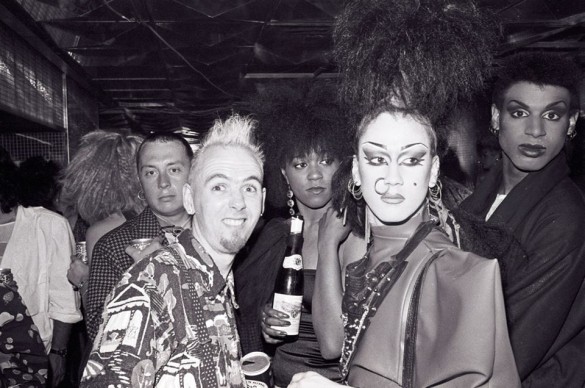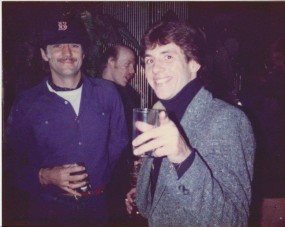 Broad Street
The Rum Runner nightclub was opened on Broad Street in the Birmingham city centre in 1964. It was demolished in 1987.
One of the first 'house' bands, playing the cover versions of the day, became Magnum featuring Bob Catley and Tony Clarkin. They left the club in 1975 to play their own material of melodic rock.
Ray Berrow, who along with brother Don, their sister Tissy and another brother, were the original owners. Paul Berrow started at the club washing glasses, as did his younger brother, Michael. Ray and Don Berrow were all bookmakers.
Paul and Michael Berrow, relaunched the club with an eclectic power playlist borrowed from Studio 54 in New York. Roxy Music and David Bowie nights were accompanied by jazz funk nights which were strongly influenced by New York's Chic powerdisco.
A real milestone in the history of the Rum Runner was when a newly-formed group of musicians called Duran Duran walked in one day with a tape. There was an instant mutual appeal between the Berrows and the band, and the Berrows offered Duran Duran a place to rehearse and play gigs.
The band found themselves becoming heavily involved with the running of the club with John Taylor working the door, Nick Rhodes deejaying for £10 a night, Roger Taylor working as a glass collector and Andy Taylor polishing mirrors, painting and cooking burgers for cash. Duran Duran quickly became the resident band at the venue.
After many months, Michael and Paul Berrow signed as Duran Duran's managers. The Berrows and the band then formed the Tritec Music company (named after the triangular-themed bar inside the club). The label used the Rum Runner office upstairs from the club as its official address. Paul & Michael's father was a well known in the Birmingham entertainment scene. Michael mortgaged his house to make funds for their supporting act roll for Hazel O'Connors UK tour.
In developing the club's musical identity they also gave free rehearsal space to bands like Dexys Midnight Runners and UB40, with The Beat filming a video for their song 'Mirror In The Bathroom' taking full advantage of the many mirrors that walled the club.
As time went by they opened more and more different evenings and one of the residents became DJ Dick who later went on to form Rockers Hi-Fi and who now hosts the city's main Funk Acid Jazz night called Leftfoot, situated at The Medicine Bar.
Notable denizens of the club included De Harriss, Mulligan, and Marlon Recchi of Fashion, Martin Degville and other members of Sigue Sigue Sputnik, Nigel & Jimmy (managers), Al Beard (security), and Liam (general socialite).
A sad picture of the famous seating barrels, and the club being dismatled.
Compiled by Keith Law
31 January 1967 – Eric Burdon. This is interesting because doesn't bill The New Animals