Saturday Lunchtimes, Wednesday Evenings at Bogarts: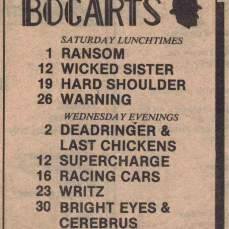 Here's a picture sent in by Chris Bates,  inside Bogarts New Years Eve 1979, and in the centre right is the box were the projector was for showing the occasional cartoon. Happy days sticking to the floor.
Thanks to Ian Hasell for sending this in to us. Ian was Walrus Gumboot's Sound Engineer. Recorded at Bogarts.