West Bromwich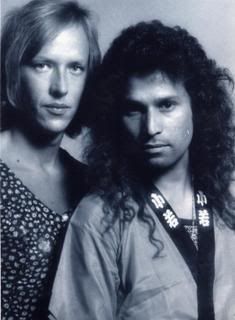 Vernon Pereira.Vocals/Guitar
Mick Reeves.Vocals/Guitar/Bass Guitar
Terry Davies.Vocals
Phil Brittle.Drums
This is the story of a band whose tragic legacy
could never have been predicted.
Possessed were born out the thriving underground
West Midlands Rock & Blues scene of the mid to late 60s.
This was a scene in which band- leader, Vernon Pereira,
had been a key figure.
Indian-born Pereira was an original member of The Band Of Joy
where he played alongside future Led Zeppelin
stars Robert Plant and John Bonham.
The trio remained close friends right up until Possesseds
untimely end in a tragic road accident
whilst returning home from a gig in Carlisle on October 21st 1976.
Lost in this accident were the lives of Pereira, Reeves
and then vocalist Terry Davies.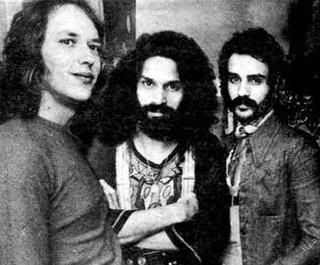 The band were formed in late 1969
when Vernon teamed up with Mick Reeves,
who had been playing in (amongst other bands)
Sugarstack with Al Atkins.
This was the band that would eventually evolve
into being the first incarnation of Judas Priest.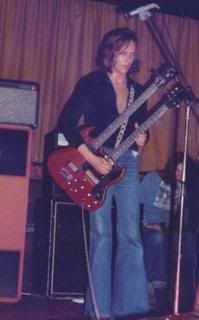 Mick had created a very unique instrument,
which was basically a Gibson SG Guitar and Bass,
both sawn in half & joined together.
He also created his own octave divider, which will explain
some of the more sonic frequencies that rip through
Vernons complex riffing on this recording.
Drummer, Phil Brittle was also something of a local legend.
He had also been a member of The Band Of Joy,
as well as being an original member of The Way Of Life
before John Bonham entered the fold.
In fact, it was Bonham himself who taught
Phil how to play triplets and double kick drums!
The quality of music & playing is unquestionable,
Phil Brittles unpredictable beats rattle and bash
with intense precision, weaving astonishing patterns
between Vernon and Micks fierce, yet intensely catchy rifferama.
What we have here is a true lost gem from the
Hard-edged Progressive Rock era.
Exploration was originally recorded and scheduled
for a major label release in 1971.
Due to unknown reasons,
it has never seen the light of day: until now.
Scheduled for release on CD and LP in September 2006,
the myths and legends of this extraordinary band
can finally be cleared and laid to rest.
35 years after it was originally intended for release,
'Exploration' finally sees the light of day on
Mon 25th September 2006, on the Rise Above Relics label.
The recordings have been proffessionally
mastered from the original masters and sound fantastic.
There have been several features in local West Midlands press
(Birmingham Evening Mail & Express & Star to name a couple).
The other great news is that Central TV Evening News
will be running a story on the band and their legacy.
This will be broadcast on the evening of the albums release.
'Exploration will be available at all good record stores
and will also be available via the Rise Above Records website (www.riseaboverecords.com)
A special vinyl version will be released later in the year.
It gives me a strange mixture, of both sadness and pleasure in making this post!
The sadness, that two wonderful talents,
were so tragically lost.
The pleasure comes from the fact,
that I knew Mick and Vernon, both as friends and as professional musicians.
Mick was a fantastic musician, and I spent many hours in his parents home,
making music together.
I took Mick to Birmingham to buy those Gibson's,and remember his Dad, sawing them, in half!!!

Vernon was unique, in the fact he had both the good looks and magical talent,
that could have made him a super-star.

It is a lasting legacy that this album,
should be released, and a fitting epitaph,
to such unique talents.
My Sincere Wishes
Compiled by Keith Law