Ocean Colour Scene are an English Britpop band from Birmingham. The band were formed after two other local bands called The Boys and Fanatics disbanded. Fanatics released an E.P. titled Suburban Love Songs.
The original line-up consisted of:
* Steve Cradock; (b. 22 August 1969); guitars, piano, mandolin, E-bow, autoharp, organs and backing vocals
* Simon Fowler, (b. 25 April 1965); vocals, harmonica and acoustic guitar
* Oscar Harrison (b. 15 April 1965); drums, piano and backing vocals.
* Damon Minchella (b. 1 June 1969); bass guitar
Damon Minchella was fired by the band in 2003, temporarily replaced by Gary "Mani" Mounfield for a support slot with Stereophonics and then was permanently replaced by Dan Sealey on bass. Another guitarist, Andy Bennett was also added, making them a five-piece.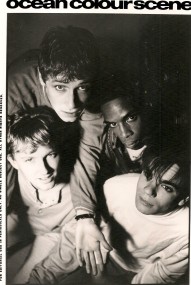 Early Ocean Colour Scene press shot. Via Mike Davies
Other contributing musicians:
* Alison Moyet; backing vocals
* Tony Hinnegan; cello
* Paul Weller; electric guitar, organ, piano, backing vocals
* Jools Holland; piano, hammond organ
* PP Arnold; vocals
* Rico Rodriguez; trombone
* Tony Griffiths, Chris Griffiths; backing vocals
* Brendan Lynch; mellotron
* Steve White; tabla, timpani, percussion, (also seen playing drums in the "Crazy Lowdown Ways" video)
* Brian Travers; saxophone
* Mick Talbot; keyboards
* Edgar Summertyme; backing vocals
* John McCusker; violin, viola
* Carleen Anderson; backing vocals
* Mark Feltham; harmonica
* Kevin Rowe; electric guitar
* Linda Thompson; vocals
* Dalbir Singh Rattan; tabla
* Duncan Mackay; trumpet
* James Hunt; saxophone
* Stewart Bartlett; french horn
* Nichol Thompson; trombone
* Tim Jaques; percussion, drums, timpani
* Michael McGoldrick; uilleann pipes, whistle, flute
* Dave Fowler; Autoharp
* Helena Payne; Mbira
* Ted Atkinson ; percussion, piano
* Ste Fov; Sax
* Rab Glenn; Triangle
* Peter Mac; Double Bass
* Jimmy Algie; French Horn
* Christopher G L Cobaine; bongos
Their first 7″ single was called "Sway" and was released in the early 1990s UK indie era. However, when their record label was swallowed up by larger company Phonogram their eponymous debut was mixed, against the band's wishes, to fit in with the Madchester musical trend of the time. With the album largely deemed a failure, and with the band in dispute with their record company, they spent several years in the wilderness.
With the explosion of the Britpop scene, OCS's music became nationally and internationally known. Their second album Moseley Shoals was received to critical acclaim, containing four hit singles and reaching the heights of #2 in the UK Albums Chart and the follow up, Marchin' Already displacing Oasis at the top of the charts. Their song "The Riverboat Song" was featured on Chris Evans' TFI Friday as the backing music when guests were introduced, and "Hundred Mile High City" and "July" were used in the film Lock, Stock and Two Smoking Barrels and the associated television series. More recently, their first hit single "The Riverboat Song" has been featured in the Vinnie Jones film Strength and Honour. They also played at the largest free standing gig of all time at Knebworth supporting Oasis on 10 and 11 August 1996.
Simon Fowler once received a message from a Spanish fan asking permission to use his lyrics "Get up and drink to the days / Ones who are gone in the shortest while" on the gravestone of their brother, who had just died in a car crash. He said afterwards, "That's got to mean more than going on Top of the Pops". The lyrics are from "One for The Road" (on Moseley Shoals).
In 1998 they headlined their own arena tour and played three sold out nights at Stirling Castle, Scotland. Their arena tour became the biggest selling arena tour of any UK band in 1998. Having undergone lineup changes, the band continue to record and perform, though they have struggled to recapture the success they enjoyed with their breakthrough album Moseley Shoals. Their sound is deliberately retro, and influenced by sixties rock, especially Small Faces.
Lead Guitarist Steve Cradock and former bass guitarist Damon Minchella have been long-time members of ex The Jam frontman Paul Weller's backing group, performing live and contributing to his solo albums before Ocean Colour Scene broke through to a wider audience. Lead singer Simon Fowler has also contributed to Paul Weller's albums in the past.
Cradock and Minchella still regularly perform with Weller, despite Minchella no longer being an active member of Ocean Colour Scene. During their peak (around the time of the Moseley Shoals release) OCS also regularly performed on stage with Noel and Liam Gallagher of Oasis with whom they were on tour at the time. These connections came about mainly due to OCS's musical abilities, which both Gallaghers and Weller praised greatly.
One particular performance of note with the Gallaghers was a storming rendition of The Beatles' "Day Tripper", which was included as a live B-Side to the single "The Circle". The song was also included on the B-side compilation album B-sides, Seasides and Freerides. Noel Gallagher previewed an advance copy of the song during an interview on Radio 1 with DJ Jo Whiley. The interview mainly focused on Oasis's then-forthcoming gig in the grounds of Knebworth House, of which Ocean Colour Scene were one of the supporting acts. Over 2.6 million [1] people applied for tickets for the shows, making it the biggest demand for concert tickets in British history. There was a combined audience of over 250,000 people. See Concerts at Knebworth House.
As in recent years, the band has recently announced a number of December tour dates, and glamour model Jodie Marsh has announced that they will be playing at her wedding on 1 September which will be filmed for her MTV Show Totally Jodie Marsh: Who'll Take Her Up the Aisle?.
OCS played the OXEGEN festival in Ireland and were extremely well received by the crowd in the Green Room on the Saturday night. The band also played festivals in Japan/Korea during August 2007, where they were well received despite the band themselves thinking they were not well known over there, and also played at the V festival over the weekend of 18 and 19 August 2007.
Discography
Studio albums
1 Apr 1992 Ocean Colour Scene 54
8 Apr 1996 Moseley Shoals 2
15 Sep 1997 Marchin' Already 1
13 Sep 1999 One from the Modern 4
9 Apr 2001 Mechanical Wonder 7
7 Jul 2003 North Atlantic Drift 14
21 Mar 2005 A Hyperactive Workout for the Flying Squad 30
30 Apr 2007 On the Leyline 37
B-sides, compilations and live albums
3 Mar 1997 B-sides, Seasides and Freerides 4 B-sides compilation of material from the 'Moseley Shoals' era
20 Nov 2001 Songs for the Front Row 16 Compilation of mainly singles up to 2001 with other tracks. Limited edition also released with bonus live CD
7 Dec 2002 Live on the Riverboat N/A Live recording of an acoustic concert by Simon Fowler and Oscar Harrison (limited edition 3000 copies via band website)
1 Sep 2003 Anthology 75 Complete collection of material from up to 2001, including singles and b-sides
20 Sep 2004 One For The Road 75 Live album taken from their 2004 summer festival tour
8 May, 2006 Live Acoustic at the Jam House 73 Live album from a Birmingham acoustic gig in mid-February 2006
17 Dec 2006 Live At Birmingham Academy N/A Live album from a Birmingham Carling Academy gig on 17 December 2006.
26 Feb 2007 BBC Sessions N/A Compilation of live performances taken from 1990-1997 on BBC Radio 1.
Released as exclusive download from iTunes and later on CD
13 Aug 2007 The Collection N/A An unofficial compilation released on the Spectrum label.
UK singles
1 Sep 1990[2] "Sway" N/A
1 Mar 1991[2] "Yesterday Today" 49
1 Feb 1992[2] "Sway" (reissue) 88
1 Mar 1992[2] "Giving It All Away" 83
1 May 1992[2] "Do Yourself A Favour EP" 94
5 Feb 1996 "The Riverboat Song" 15
25 Mar 1996 "You've Got It Bad" 7
3 Jun 1996 "The Day We Caught the Train" 4
16 Sep 1996 "The Circle" 6
16 Jun 1997 "Hundred Mile High City" 4
25 Aug 1997 "Travellers Tune" 5
10 Nov 1997 "Better Day" 9
16 Feb 1998 "It's a Beautiful Thing" 12
23 Aug 1999 "Profit in Peace" 13
15 Nov 1999 "So Low" 34
26 Jun 2000 "July" 31
26 Mar 2001 "Up on the Downside" 19
2 Jul 2001 "Mechanical Wonder" 49
21 Nov 2001 "Crazy Lowdown Ways" 64
30 Jun 2003 "I Just Need Myself" 13
25 Aug 2003 "Make the Deal" 35
29 Dec 2003 "Golden Gate Bridge" 40
7 Mar 2005 "Free My Name" 23
20 Jun 2005 "This Day Should Last Forever" 53
16 Apr 2007 "I Told You So" 34
9 Jul 2007 "I Just Got Over You" 112
15 Nov 2007 "Go To Sea" N/A
DVDs and videos
* 1997 Times of Our Lives [VHS] * 1998 Travellers Tune [VHS] * 2003 Filmed From the Front Row [DVD] * 2008 Live At The Town Hall [DVD]
Support
Most band members have supported/collaborated with other artists during the group's existence. Simon Fowler was one of the musicians involved in the official anthem for England's World Cup campaign, for France 98. England United as they were named also included Echo & the Bunnymen, Space and The Spice Girls. "(How Does It Feel) To Be On Top Of The World" reached number 9 in the official UK charts. Steve Cradock and former member Damon Minchella played/played regularly with Paul Weller, with Cradock also playing recently on Amy MacDonald's gigs
Special thanks to Keith Law  for content.