(Early Idle Race (1963 – 1966)
Birmingham
Mike Sheridan lead vocal (left 1966)
Brian Cope bass guitar (left 1963)
Al Johnson lead guitar (left 1964)
Dave Pritchard guitar, vocals
Roger Spencer drums
Greg Masters bass guitar, vocals (joined 1963)
Roy Wood lead guitar, vocals (joined 1964, left 1966)
Johnny Mann lead guitar (joined & left 1966)
Jeff Lynne lead guitar, vocals (joined 1966)
This group was one of the most well known Brumbeat acts of the early 1960s and are also very significant as the members included two of the most famous Birmingham musicians
of the 1960's and 70's, namely Roy Wood and Jeff Lynne.
Mike Tyler started his music career at a young age by playing piano at a pub in Kings Heath. After entering and winning a local talent contest, he was asked to join Billy King and the Nightriders which he did after changing his stage name to Sheridan.
The group attracted a large local following and after various personnel changes, Sheridan became the lead singer and frontman.
The Nightriders also included lead guitarist Alan 'Big Al' Johnson who was manager of Burton's tailors on Corporation Street and guitarist Dave Pritchard from a group called The Planets. Drummer Roger Spencer who was from Castle Bromwich,
had previously played in a group called The Hound Dogs. Bass guitarist at the time was Brian Cope.

Mike Sheridan and The Nightriders soon established a reputation around Birmingham as one of the most accomplished bands on the scene at that time.
In June of 1963, Cliff Richard & Shadows producer Norrie Paramour
came up to Birmingham to audition local beat groups at the Moat House Club in the Bull Ring. Of the 13 bands that had been recommended, five including the Nightriders were signed-up by Paramour to the Columbia Records label.
Mike Sheridan & The Nightriders first record release was Tell Me What You're Gonna Do but in late 1963, Brian Cope left the group and was replaced by Greg Masters from Nechells who had played in The Dominators and The G Men.
The next single to be recorded by the Nightriders at the famous Abbey Road Studios in London was Please Mister Postman (recorded on 22nd November 1963 – the same day President Kennedy was assassinated) and although it didn't chart it sold well locally and gained the band much attention.
The Nightriders respected lead guitar player, Big Al Johnson, left the band in 1964 after appointing a young successor by the name of Roy Wood.

Roy Wood was born in Birmingham on November 8, 1947. He started playing drums and harmonica at an early age, turning to the guitar when he was about 14 after being influenced by instrumental groups such as The Shadows and The Ventures.
Six months later he had joined his first band called The Falcons and was playing Chuck Berry and Little Richard style rock 'n' roll.
It was at about this time that Roy Wood first started to write songs, and by 1963 had joined Gerry Levene and The Avengers, a group that also included future Moody Blues drummer Graeme Edge.
Roy Wood's association with the Avengers lasted only for about four months before he left to join Mike Sheridan's Nightriders. He answered an advertisement in the Birmingham Post & Mail that read
WANTED… LEAD GUITARIST TO JOIN PRO. GROUP. MUST HAVE FENDER GUITAR,
VOX AMP AND BINSON ECHO.
Roy Wood was chosen out of about a dozen applicants and his talent as a guitarist and singer became immediately noticable. He also introduced comedy into the Nightriders act on stage by doing Donovan and Dusty Springfield impressions while wearing a suitable wig!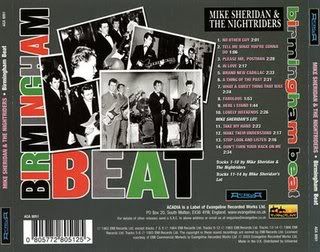 The first Nightriders single to be recorded with Roy Wood on guitar and backing vocal
was What A Sweet Thing That Was/Fabulous released at the end of 1964.
In early 1965, Mike Sheridan & The Nightriders, like many British groups in the early 1960's went over to Germany to undertake some bookings.
When they returned, another single Here I Stand/Lonely Weekends was released
in 1965, and the group's name was changed to become Mike Sheridan's Lot.
On the next Nightriders single Take My Hand, Roy Wood alternated on lead vocal with Mike Sheridan. Make Them Understand was the B-side and is significant
by being Roy Wood's first songwriting effort to be published.
Although not an exceptional composition, it does feature some excellent guitar work but Mike Sheridan, not Roy Wood sang the vocal on it.
After the release and subsequent failure of the excellent Don't Turn Your Back On Me single in early 1966 (a song written by American composer Jackie De Shannon
and recorded with future Pink Floyd producer Norman Smith), Roy Wood left the band to become a founding member of Birmingham's hit group The Move.
His place was taken by Johnny Mann from Carl Wayne and The Vikings
and Mike Sheridan carried on as the frontman for a short time before also leaving.
With Mike Sheridan's departure, the group's name was abbreviated to the Nightriders although Johnny Mann decided to leave soon after and a young guitarist named Jeff Lynne who lived in Shard End, joined the band in response to an advertisement in the local paper. Lynne's first group was called The Andicaps
and he had also previously been a member of the Chads (originally known as The Sundowners). After the release of a final Nightriders single, the band was re-named The Idle Race and a change in musical direction followed (see Idle Race).
Mike Sheridan continued to perform around the Midlands for a while as Mike Sheridan's New Lot with a line-up of his consisting of Joe Dignam on drums, guitarists Pete Oliver and  Terry Wallace (see Carl Wayne and The Vikings) and Colin Timmins on bass guitar.
They released a single in 1966 and Mike Sheridan later joined up with Move bass player Rick Price to form the group Sheridan-Price with whom he also recorded an album (see Sight and Sound). Mike Sheridan retired from music in the early 70's to start a successful business selling potatoes.
In the 1980's he returned with a new Nightriders band playing 1960's style music and he's still a well known and much respected performer in the Birmingham area along
with his wife Suzi Sheridan.
Today's line-up of the Nightriders include Rod Godwin who has worked with Jimmy Powell, Cathedral and Coventry band Jigsaw as well as many others including Badfinger. The line-up also features veteran musicians Phil Middleton and Nick Cripps.
With Special Thanks to
Copyright -© John R Woodhouse
Brum Beat
Compiled by Keith Law
MIKE SHERIDAN & THE NIGHTRIDERS
28 March 1964 – California Ballroom, Dunstable, Bedfordshire with Mike Berry & The Innocents, Rel Jason and The Blue Stars and Johnny Kaye & The Cossacks (website: www.california-ballroom.info/gigs/)
28 March 1964 – Malborough Hall, Halifax, West Yorkshire (Website: http://www.musictrailuk.com/index.php/venues/marlborough-hall)
26 July 1964 – 76 Club, Burton on Trent, Staffordshire (http://www.76club.org.uk/gigs.html)
20 December 1964 – 76 Club, Burton on Trent, Staffordshire (http://www.76club.org.uk/gigs.html)
23 January 1965 – Dungeon Club, Nottingham (https://dungeonmods.wordpress.com/)
13 February 1965 – Malborough Hall, Halifax, West Yorkshire (see website above)
10 March 1965 – Winter Gardens, Weston Super Mare, Somerset (Weston Mercury)
12 March 1965 – Dungeon Club, Nottingham (https://dungeonmods.wordpress.com/)
13 March 1965 – Boston Gliderdrome, Boston, Lincolnshire with Alex Harvey & His Soul Band and The Ashes (Lincolnshire Standard)
19 March 1965 – Marcam Hall, March, Cambridgeshire (Cambridgeshire Times)
21 March 1965 – Agincourt Ballroom, Camberley, Surrey with The Emerlads (Camberley News/Aldershot News)
9 April 1965 – Dungeon Club, Nottingham with The In Crowd (https://dungeonmods.wordpress.com/)
24 April 1965 – Gaiety Ballroom, Ramsey, Cambridgeshire with The Half Dozen (Website: http://peterboroughimages.co.uk/music/?p=8130)
26 April 1965 – Hermitage Ballroom, Hitchin (Hertfordshire Express)
28 April 1965 – Winter Gardens, Weston Super Mare, Somerset (Weston Mercury)
16 June 1965 – Locarno, Stevenage, Hertfordshire (Welwyn Times/Hertfordshire Express)
26 June 1965 – Boston Gliderdrome, Boston, Lincolnshire with Them and Rodgers Lodgers (Lincolnshire Standard)
27 June 1965 – Dungeon Club, Nottingham with The In Crowd (https://dungeonmods.wordpress.com/)
29 June 1965 – Gala Ballroom, Norwich with Poor Souls (Eastern Evening News)
17 July 1965 – Weybridge Hall, Weybridge, Surrey (Woking Herald)
28 August 1965 – Gaiety Ballroom, Ramsey, Cambridgshire with The Midnighters (Cambridgeshire Times)
3 September 1965 – California Ballroom, Dunstable, Bedfordshire with The Who and The Vivas (website: www.california-ballroom.info/gigs/)
9 October 1965 – Boston Gliderdrome, Boston, Lincolnshire with Small Faces and The Federals (Lincolnshire Standard)
MIKE SHERIDAN'S LOT
18 November 1965 – Alexandra Hall, Halifax, West Yorkshire with The Zeros (Website: http://www.musictrailuk.com/index.php/venues/alexandra-hall)
31 December 1965 – California Ballroom, Dunstable, Bedfordshire with Dave Dee, Dozy, Beaky, Mick and Titch, The Fenmen and The Nite People (website: www.california-ballroom.info/gigs/)
17 March 1966 – Club Cedar, Birmingham (Birmingham Evening Mail) BILLED AS MIKE SHERIDAN'S NEW LOT