Birmingham
Pete Allen bass guitar (left in 1966)
Mike Kellie drums (left in 1966)
Danny King vocal (left in 1966)
Brian "Monk" Finch saxophone (left in 1966)
Jim Simpson trumpet (left in 1967)
Richard Storey saxophone, organ (left in 1966)
Chris Wood saxophone, flute (left in 1966)
Joe Ellis bass guitar (joined 1966 – left 1967)
Norman Haines vocal, keyboards (joined 1967, left 1970)
Bill Madge saxophone (joined 1966, left 1969)
"Mooney" Mazzone drums (joined 1966 – left 1967)
John Barry saxophone (joined 1966 – left 1967)
Mick Hincks bass guitar, vocal (joined in 1967)
Bob Lamb drums (joined in 1967)
Mike Taylor trumpet (joined 1968, left 1969)
John Caswell guitar, vocal (joined in 1970)
Keith Millar guitar, keyboard, vocal (joined in 1970)
Andy Hughes bass guitar
This band from Birmingham included names who were famous on the local scene as well as others who would go on to gain greater recognition. Above all, it was keyboardist Norman Haines who defined the most well-known line up of Locomotive.
The original Locomotive was put together in 1965 by jazz musician Jim Simpson who also worked as a photographer for the Midland Beat newspaper. The band was something of a local "supergroup" as besides Jim on trumpet, the members included influential vocalist Danny King, saxophonists "Monk" Finch from The Beachcombers, and Chris Wood from Sounds Of Blue (later to become Chicken Shack). The initial line-up also had drummer Mike Kellie (from The Phantoms), organist Richard Storey, and Pete Allen on bass guitar.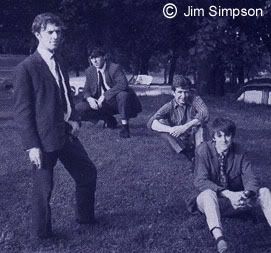 Danny King & Locomotive
The band was first called "The Kansas City Seven" but this was later considered too jazzy for a future chart act who were now including lots of blues and soul numbers into their show. The band gained recognition for their energetic live performances and soon had bookings for as far away as London where they played many times. 1966 saw various personnel changes and by the end of the year, only Jim Simpson remained of the original line-up. Mike Kellie joined Pat Wayne's Beachcombers before hooking up with a band called "Art" and later played drums in Spooky Tooth. Chris Wood who left at the end of the year joined up with Jim Capaldi, Steve Winwood and Dave Mason to form the internationally acclaimed Traffic.
In early 1967, keyboard player Norman Haines became part of the new Locomotive line-up which now consisted of Jim Simpson, Jo Ellis (bass), Bill Madge (saxophone) and drummer "Mooney" Mazzone. Norman Haines started his career in music as a member of The Brum Beats – not to be confused with the other Brumbeats who were led by singer Bobby Ash. Having worked at a record shop in Smethwick (a part of Birmingham with a large West Indian population), Norman developed an interest for the Blue Beat and Ska music that was popular in that area. His songwriting talent and Hammond organ was soon put to good use when the band recorded their first single Broken Heart. The record didn't chart but the b-side A Message To You Rudy later became a hit for the Coventry band The Specials in 1979.
Norman Haines
Jim Simpson had left Locomotive by 1968 to become their full-time manager. He would also go on to manage local bands Bakerloo Blues Line, Tea & Symphony and eventually Black Sabbath. In addition to Norman Haines and Bill Madge, the band now included bass guitarist Mick Hinks, drummer Bob Lamb, and trumpet player Mick Taylor. A second ska-flavoured single by Locomotive was released in October of 1968 – also composed by Norman Haines. Rudi's In Love proved very popular on the dance floor and reached No. 25 during its eight week stay in the charts. Ironically, the success of the record would work against the band later on.
Now with a hit single in the charts, Locomotive were booked into the famous Abbey Road Studios in London to record an album. Gus Dudgeon produced the sessions – he would later go on to make hit records with Elton John. Top session horn players Dick Heckstall-Smith, Henry Lowther, and Chris Mercer were used in recording Locomotive's album and by January of 1969 the first new Locomotive single was released. Mr. Armageddon was a Norman Haines original and a brilliant piece of work. The recording prominently featured the Hammond organ and a heavy horn-driven chorus but it was in a strong psychedelic/progressive vein – completely unlike the band's previous ska-based singles. The group announced their new progressive direction and the record drew acclaim from most reviewers but it sold poorly. Fans of the new progressive rock music still considered Locomotive to be a "pop" act while those who enjoyed Rudy's In Love were not interested in the band's new image.
Another Locomotive single was released in 1969. I'm Never Gonna Let You Go was a cover of a Question Mark and The Mysterians song, but while it was more "pop" oriented, the record missed the charts. Although Locomotive's album had been completed for some time, Parlophone continually delayed its release to the dismay of the band. During 1969, the music scene was changing rapidly with heavier guitar-oriented groups making the biggest impact. Norman Haines left Locomotive before the end of the year and was reportedly offered a job to play keyboard in the recently formed Black Sabbath (also managed by Jim Simpson). Although he declined the offer, Black Sabbath did record one of his compositions When I Come Down but the track was never released.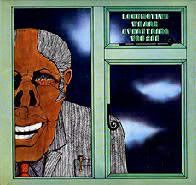 We Are Everything You See
On February 1st 1970, the Locomotive album We Are Everything You See at last reached the record shops. It was a great mix of psychedelic/jazz based compositions with the recording and musicianship all done to a very high standard. The album did not sell well and was largely ingnored so it never really got the recognition it deserved (see a review of this album on the Brum Beat Reviews page). Norman Haines formed a band called Sacrifice with whom he recorded an album in 1970. They later became The Norman Haines Band.
Remaining Locomotive members Mick Hincks and Bob Lamb along with replacements John Caswell and Keith Millar recorded a final Locomotive single Roll Over Mary before re-naming the band "The Dog That Bit People" under which name they released a single and album in 1971. Hinks and Lamb were also involved with Brum band Tea & Symphony and participated in recording their 1970 album Jo Sago. Bob Lamb later joined the Steve Gibbons Band (see Idle Race) who had success with their chart hit Tulane in 1976 and toured America extensively. Bob Lamb also produced UB40's first record at his Dudley studio in 1979.
Compiled by Keith Law