Singer/Songwriter
KEITH LAW, with 22 records released,
has composed over 500 songs including,
Yellow Cave Woman, Within' The Night
and Once Among The Trees
on the highly collectable,
1969 Velvett Fogg album,
which is continually re-released

_____________________________
KEITH has also written all the songs, and performs
on the JARDINE album LOOK IN THE WINDOW
released as an LP in January 2008
and as a CD in June 2009
KEITH'S solo album EYES IN THE WIND
was released November 2009
It features 12 songs, all written
and performed by him
KEITH LAW has 22 records released
with 1 currently in progress
His songs are continually re-released
on compilations and box-sets
__________________________________
Biography
KEITH LAW was born in the mid- forties,
in the "Black Country", West Midlands, England.
a very industrial area, where the foundries
and heavy industry led to smoke and air pollution.
He attended the local primary and secondary schools.
When he was about 10 years old, his brother
came home with a Spanish guitar.
Many hours, weeks, months and years later
and with the help of numerous tuition books,
he finally learned a few chords and solo pieces.
He had always been singing songs he had composed and now,
with this new found skill,his composing took on a new dimension.
KEITH'S parents were always supportive
and once spent the whole week's budget
to buy him his first guitar and amplifier.
It was a solid body Watkins Rapier electric guitar,
and a small Selmer Amp.
Thanks to this gift, his songwriting became more serious.
His first catalogued song was in 1965.
During this time KEITH was studying
for a Degree in Marketing at Aston University.
However he soon realized that his was to be a life of music.
It was during this time that he became involved
with other local musicians such as
Mickey Cox, and Paul Lockey
and their band Shooting Stars
He was to work with them both through the years,
and they are mentioned throughout this Biography.
About 1964, he and schoolpal, Alan Blunt
used to visit the Casa Bambu in West Bromwich.
It is here that they first met Bill Spilsbury,
and it was here where THE WILLIAMSONS were formed
---
THE WILLIAMSONS
(1965/66)
KEITH LAW was Lead Guitarist/ Vocalist
The band featured lead vocalist, and blues harp player,
Bill Spilsbury, Alan Blunt -rythmn guitar,
Anthony Basterfield on bass, and Graham Travers on drums
The band were a highly respected blues band
from Great Barr, Birmingham.
Originally called Devil's Disciples,
their gigs included, The Macabre, Casa Bambu,
the West Bromwich blues club.
The Stork Club, Walsall Casino,
where they were often, the main band or,
support to the more well known bands at that time,
including The Moody Blues
THE WILLIAMSONS, supported the legendary Blues Artist
Sonny Boy Williamson when he appeared
at the Whiskey Go Go, in Birmingham,
in the late 60's. Hence the dedicated name
---
Love and Understanding
(1967/68)
>
Walsall based group, formed as a vehicle for
songwriter KEITH LAW ,and performed only
original songs, written by KEITH
KEITH and the band, which included,
Martin Hall, lead guitar/vocals,
Eric Timmins, Bass/Vocals,
and Roy Knight on drums
were signed to F.P. Enterprises,
and were managed by Chas Peate,
Chas was to become KEITH'S publisher,
Belsize Music
and would subsequently, publish
KEITH'S Velvett Fogg songs
Love and Understanding
performed at Schools, Colleges and Universities,
undertaking a six week University tour in '68.
---
PAINT
(1968)
KEITH LAW along with Mickey Cox (former member)
and Harold Barber (former roadie)
of Robert Plant's band 'The Band of Joy
formed PAINT , when Robert left to join Led Zeppelin.
The band, which also included John Jevons,
ex. Hush on bass,
and Harold Barber on drums,
performed original songs, including the songs
KEITH wrote for Velvett Fogg
These original songs were mixed
with well known, R&B, and Blues.
The band appeared at Schools, colleges, US and RAF bases,
often as the main band, and also, as support to bands,
at that time, such as ' Slade '
PAINT were regulars at well known local venues, such as
The Golden Eagle, Birmingham, Ship and Rainbow,
Hen and Chickens,Woolpack,
and Catacombs, Wolverhampton,
The Plazas, and The George Hotel, Walsall.
The band at one time continued as a trio
PAINT recorded tracks for Les Reed's,
Chapter One label.
---
JARDINE
(1969)
KEITH LAW , along with Mickey Cox
who had recently disbanded PAINT
(their previous band)
formed JARDINE ,
in the Winter of 1968/69
KEITH wanted a more earthy psychedelic sound,
KEITH LAW , who wrote all the band's original songs
shared the vocals, and also played second guitar, and flute
Mickey Cox was the vocalist and lead guitar
and was previously with Led Zeppelin's
Robert Plant's, Band of Joy
Colin Hawkins was on drums,
and Brian Urquhart on Bass.
The band's show was a mix of blues classics
and original songs, penned by KEITH
They were written about the same time as those
on the well known Velvett Fogg album
so possess the same air of psych KEITH LAW mystery!
The band played Universities, Colleges and schools
and the occasional open-air concert
In June 1969, ,JARDINE recorded and album in London
which was never released, until now!
During the recording sessions many musicians,
some famous, would come and join in.
They were,
Peter Frampton singer, ex' The Herd
and then an international pop star
Andrew Bown ex The Herd
who formed the Andrew Bown Set,
and is now keyboard player with Status Quo,
Michael Berg, keyboard player and engineer.
Brian Appleyard, Drummer
ex East of Eden
"They're on the recordings somewhere
but can't remember where!"- KEITH LAW
.
.
Left:-
KEITH
recording
the JARDINE
album,
at
Sound
Aquarian
Studios
.
.
With the recent resurgence of Psychedelic music
and in particular the ever growing
popularity of Velvett Fogg
Demand for songs by KEITH LAW
has increased enormously!
KEITH found the 'lost' tape,
in his garage attic!
Still in perfect condition,
and still to tell the story!
So 40 years later,
here is JARDINE and their music,
that has been in the garage,
for far to long!
CD. NOW released Worldwide
Click on CD, to see Amazon Review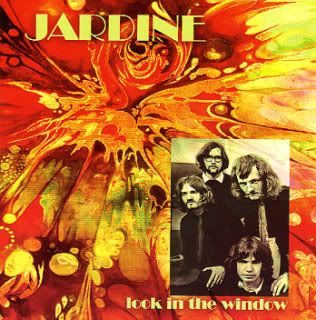 Look In The Window-
Jardine.
CD.
(2009) Lion Productions.
U.S.A. LION 624
Look In The Window-
Jardine.
LP.
(2008) Anazitisi Records-
ARLP 70-17F
…..
Reviews
Hannah, Wife Of Thomas Kite
Great Stuff It's one of my favourite songs.
emmina78-YouTube
Velvett Fogg, JARDINE and KEITH LAW are GREAT!
This is one of my favorite songs of theirs.
Go and buy this guy's music for reals.
KoroOutbreak-YouTube
Masochists Of Strangulation
…this song is amazing….awesome vibe to it…great!!!!
xojbabyxo-YouTube
What a great record
SPACEFACE70-YouTube
Ouch. This is too crunchy for words.
Swampmonster music on acid.
I love it.
groovemo-YouTube
---
Velvett Fogg
(1969)
KEITH LAW , was approached for original material
by Velvett Fogg who were formed in 1968
out of a respectable Brum band called Gravy Train.
The initial line-up of Velvett Fogg
featured guitarist Tony Iommi
(later to make the big time with Black Sabbath)
The other band members were drummer Graham Mullett,
bass guitarist Mick Pollard, and Londoner Frank Wilson
who played Hammond organ. The band was soon off to Germany.
Their exciting stage act included a light show and a go-go dancer.
Upon returning to Birmingham, the band, was given a record deal by
Jack Dorsey of Pye Records.
At this time it seemed that the more unusual or controversial
a band was, then the greater chance there would be
for success in the record business.
The record label was looking to sign unusual "underground" acts
and Velvett Fogg were told to, in Jack Dorsey's words,
"develop an image that would make people think
you would piss on the pope"
Material for the Velvett Fogg album would be supplied by local
songwriter/guitarist KEITH LAW who became a friend of the band.
KEITH takes up the story; "I was in the Rum Runner one night,
when someone told me that Velvett Fogg were looking
for new material, and they introduced me to them.
I arranged to meet them at their rehearsal place,
Langley Baths.
I went along the next day, and went through
the following songs with them:
Yellow Cave Woman,
Within' The Night and Once Among The Trees and that was it!
The next couple of days, they were in London recording"
Velvett Fogg self-titled album
was released on the Pye label in January of 1969
Despite what some may have thought, the album stands up as
a fine example of late 1960s British psychedelia.
As well as the previously mentioned covers,
original compositions such as
Yellow Cave Woman,
Within' The Night and Once Among The Trees are hypnotic if not compelling.
By far the most controversial feature of the ,Velvett Fogg
album was the record cover.
It displayed the band wearing garish make-up/body-paint
and costume but also included two well-endowed young women
wearing nothing but strategically applied body paint!
This politically-incorrect package was accompanied
by a typically obscure sleeve note by the influential U.K. disc jockey

John Peel who commented
"There is a lot of good music on this record.
Remember Velvett Fogg – you will hear the name again."
During the years since Velvett Fogg's demise,
demand amongst collectors for copies
of their (now very rare) album
has increased considerably.
Original albums have changed hands for high prices
with bootleg copies also known to be in circulation.
Fortunately, in 2002 the Sanctuary Records Group Ltd.
re-issued the album officially for the first time on CD (CMRCD619)
and it is strongly recommended for those
who are fans of the British psychedelic or early
progressive sounds of the late 1960s.
For the complete biography, click on
Velvett Fogg
AMERICAN
FAN SITE
---
1970 Onwards
KEITH toured
and played
in Germany, Denmark,
and Sweden
with bands,
including
Bob Catley's,
(Next to.KEITH , on the far right)
'pre-Magnum' band
Life,who performed
KEITH'S songs.
This band also included,
Chris Brown,
of The Band Of Joy
(Third from left)
---
KEITH was based in Stockholm, for some time,
where he worked with Swedish musicians
such as Kjell Eidendal and Catt Arfors.
---
On his return to the UK, he was soon involved
once again in the Birmingham group scene.
.
.
.
KEITH LAW ,
continued writing
and recording songs,
with friends
such as
Paul Lockey,
ex- The Foundations
and Robert Plant's
Band Of Joy
.
.
.
---
KEITH was also produced by such prolific producers as Tony Visconti
(See My blog entry)
---
KEITH'S songs have been published by Acuff-Rose, Schroeder Music
(The Beatles), Apple Music and Belzize Music.
---
.
One of KEITH'S songs
Harpsichord
was released
as a single
on the
United Artists label,
by the band
Stampede .
.
.
---
.
Over the many years,
KEITH
recorded many songs
in his home
Studio One.
The tapes were stored
for years, untill now
thanks to
Anazitisi Records
a solo album,
of 12 of these songs
has been released.
EYES IN THE WIND– KEITH LAW
(2009) Anazitisi Records. ARLP F0007034
---
And Now
KEITH LAW is still writing and recording
and is also a successful entertainer in the South West
and can be seen, in shows around Torbay, every week throughout 2010
Frank Wilson is now performing as, RUN VT
who are one of the most sought after bands in the South East
---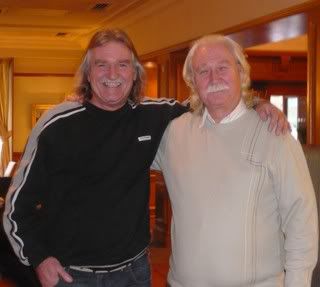 KEITH and Frank, met for a reunion at the
Holiday Inn, Maidstone, Kent, UK. January 2009
KEITH LAW and Frank Wilson, founder member, vocalist and keyboard player,are back together writing and recording
and are currently working on their new new album
Velvett Fogg Reloaded
Like I Know Johanna
"Incredible music. Thank you for creating this.
It is an inspiration for me."
kulatopia -YouTube
Goblins and Kings
"Another great piece of music from you guys.
I miss quality stuff like this. "
kulatopia -YouTube
"Remember Velvett Fogg – you will hear the name again"…(John Peel. 1969 )