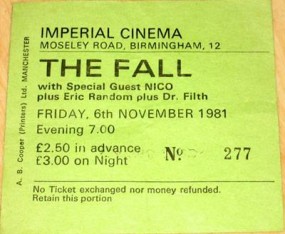 516 Moseley Road,
Birmingham, B12
The Imperial Picture Palace was located on Moseley Road at the corner of Clifton Road in the Balsall Heath district south of Birmingham city centre. It opened on 26th January 1914 with the Italian silent film "Satan's Castle and John Bunny in "The Pirates". It was designed by architect L.L. Dussault.
In 1927, it was reconstructed to the plans of architect Archibald Hurley Robinson, and the architectural firm Satchwell & Roberts, when the building was extended and a balcony installed. It re-opened on 14th November 1927 as the New Imperial Cinema.
Taken over by the Associated British Cinemas(ABC) chain in October 1936, it was re-named New Imperial Super Cinema. It was closed as a regular cinema on 13th April 1963.
It was taken over by independent operators and re-opened as the Imperial Cinema, screening East Indian 'Bollywood' films. This closed on 3rd March 1983.
The Imperial Cinema re-opened again screening regular release films, and was taken over by the Council as a community centre, still screening ocassional films. It has now been demolished, and in the mid-2000's, the site is an empty plot of land.
[ Info via http://cinematreasures.org/theaters/37360 ]