Barbarella's is one of Birminghams legendary venues. It stood on the site of what is now the RBS Bank in BrindleyPlace. If memory serves me right, the address was 37 Cumbernauld St.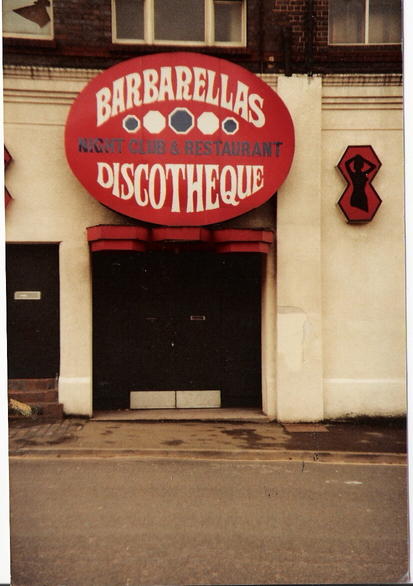 Part of the Fewtrell family chain of venues in Birmingham, it was initially a disco type venue that quickly turned into a live rock venue hosting bands such as AC/DC and Queen. It's legendary status however came with the onslaught of Punk in 75/76. Tales are numerous of the small but noticeable punk crowd who would turn up at Barbarella's to see The Sex Pistols, The Clash, Siouxsie and the Banshee's, The ramones, The Buzzcocks and local punks, The Killjoys, Suburban Punks and The Prefects, Sussed, Dansette Damage and others who would play as support. In between acts, the punks would pass over their own reggae records for Kevin the DJ to play. Like Punk, Barbarella's was a fairly short term venue (although Dire Straights did record a live album there on the 4th July 1978 titled Birmingham at Barbarellas).
As with other venues, I'd love to get more memories, gig listings, photos and so on, but to kick us off, here is a mega rare photo of the Sex Pistols playing Barbarellas accompanied by a live recording on from the gig on 14th August 1976 of Flowers of Romance and I Wanna Be Me, sent in by Andy Marshall from the Sex Pistol Archives http://www.youtube.com/user/SexPistolsArchives
This is some incredible audio, of the Pistols in Brum. Were you there?
Just two weeks before the Pistols played Barbarellas, on the 31st July 1976, one of the all time greats of the heavy rock scene played here, the mighty AC/DC. What an amazing couple of gigs in the space of two weeks and so different! Where you there?
This is a rare recording of Rock N' Roll Singer, made even rarer for being recorded live in Barbarellas in Birmingham! Enjoy.

Barbarella's Rock Christmas Party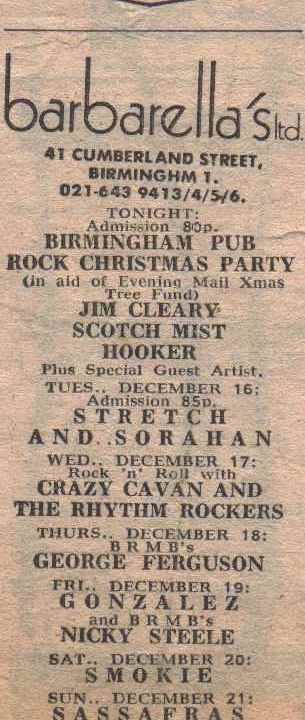 Howard Devoto, 1979