Au Pairs were an 80's punk band formed in Birmingham in 1979 during the 'second wave' of punk. The band was fronted by Lesley, who at the time was one of very few lesbians in the punk scene that had actually 'come out' and was an outspoken feminist.
Members:
*Paul Foad (guitarist)
*Lesley Woods (vocalist)
*Jane Munro (bassist)
*Pete Hammond (drummer)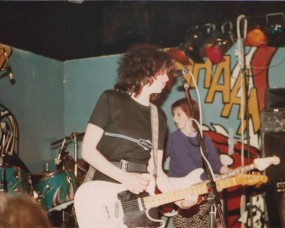 Within their lyrics, the Au Pairs often highlighted the power struggles between men and women in relationships, celebrating female sexuality. They also swiped at the present politcal climate after Margaret Thatcher was elected Prime Minister.
The group released two studio albums. Their first, 'Playing with a Different Sex' (1981), is a post-punk classic with sarcastic songs like "It's Obvious" and "We're so cool". Other songs looked at the controversial "Troubles" in Northern Ireland at the time. 'Sense and Sensuality' released the following year showed an influence of jazz, soul, funk and disco in the band's sound.
'Equal But Different' was released in 1983, but the band broke-up later that year just before they were about to go into the studio to record an album with producer Steve Lillywhite.
Lesley went on to form an all female band called the Darlings in the late '80s, but then left the music industry altogether and now works as a lawyer.
Paul remains an active musician, playing with Andy Hamilton and the Blue Notes a Jamaican Jazz band and also teaches guitar in and around Birmingham. He has published a guitar technique book, co-written with Stuart Ritchie, titled The Caged Guitarist (2000).
Jane works as an alternative therapist in Birmingham while Pete teaches percussion in Birmingham.
Discography:
*Equal But Different (1983)
*Sense and Sensuality (1982)
*Playing with a Different Sex(1981)